Tim Brownson
I and my wife had just arrived at Miami airport.
It was February 2006 and after 2 weeks of taking her nursing exams that guaranteed her green card and our ability to become permanent US residents, we had flown back to the UK to clean up some loose ends.
Arriving back in Mimai was a wonderful experience knowing that this time we weren't holidaymakers, but here to stay.
Then it all went wrong.
No, we didn't take a wrong turn out or Miami airport. And no, we didn't run out of gas on Alligator Alley resulting in a night spent in our car being attacked by malevolent mosquitos.
We got in the wrong line for customs.
We joined the line for UK visitors as we have on the dozens of previous trips over the years to the US.
【回答】
我和妻子刚抵达迈阿密机场。
那是在2006年2月,在参加了两周的护理考试后,她获得了绿卡,我们也有能力成为美国永久居民,我们飞回英国清理一些未解决的问题。
回到迈阿密是一次美妙的经历,因为这次我们不是度假者,而是留在这里。
然后一切都出了问题。
不,我们没有走错路,也没有走错迈阿密机场。我们也没有在鳄鱼巷没油,导致我们在车里被蚊子咬一晚。
而是我们在海关排错了队。
我们排在了英国游客的队伍,因为我们多年来已经几十次去美国旅行了。
When it became our time to present our passports the customs official saw the visa signifying we were residents.
There was no smile, no welcome, not even a gentle admonishment for getting it wrong, he just called for a supervisor.
What followed had us feeling unsafe not in the sense that we ever feared for our lives, but in a wtf have we done committing to a country that treats its guests like this? kind of way.
We were first split up and put into separate rooms.
Then, over a 5-hour period of which about 4-hours was staring at blank walls wondering what was going on, we were questioned on why we were there and why we were trying to gain access to the country as a visitor when we were a resident?
当我们要出示护照的时候,海关官员看到签证,显示我们是居民。
他没有微笑,没有欢迎,甚至没有温柔地告诫弄错了,他只是叫来了一位主管。
接下来发生的事情让我们感到不安全,不是我们担心自己的生命安全,而是卧槽?我们对一个这样对待客人的国家做出了承诺?之类的
我们最初被分开,安排在不同的房间。
然后,在长达5个小时的时间里,我们盯着空白的墙壁,想知道发生了什么事情,我们被问到为什么我们会排在那里,为什么我们是居民,却试图以游客身份进入这个国家?
It was all incredibly intimidating and nerve-wracking.
When we were both allowed to leave, again, there were no smiles, no good luck or welcome to the United States, and certainly no apologies, we were simply told we could go.
I have no clue who this group below smiling for the camera are. But I suspect if our experience was anything to go by they're actors brought in because the actual customs and border officials have no clue what smiling even is. And that belief has formed over dozens of trips into the country from overseas not just this one.
I have had a handful of other negative experiences coming back into the US at the hands of US Customs.
It really is something the US needs to get a handle on because it's often guests of the United States (who bring billions of dollars into the economy) first point of contact and can leave a nasty taste in the mouth.
Having said that, I'm happy to say that was the worst experience I ever experienced in the 15 years of living there. As a whole, Americans are very hospitable and friendly people who made us feel very welcome and contributed to a great period in our life.
这一切都是让人难以置信的恐惧和紧张。
当我们都被允许离开的时候,同样,没有微笑,没有祝好运,也没有欢迎来到美国,当然也没有道歉,我们只是被告知我们可以离开了。
我不知道下面这群面对镜头微笑的人是谁。但我怀疑,如果我们的经验可以作为参考的话,他们是演员,因为真正的海关和边境官员甚至不知道微笑是什么。这种想法在我几十次从海外到这个国家的旅行中形成的,不仅仅是这一次。
回到美国后,我在美国海关那里也有过一些负面的经历。
这确实是美国需要处理的事情,因为海关经常是美国的游客(为美国经济带来数十亿美元)的第一个接触点,可能会对美国留下不好的印象。
话虽如此,但我很高兴地说,这是我在那里生活的15年中所经历的最糟糕的经历。总的来说,美国人非常热情和友好,他们让我们感到非常受欢迎,并为我们生活中的一段美好时光做出了贡献。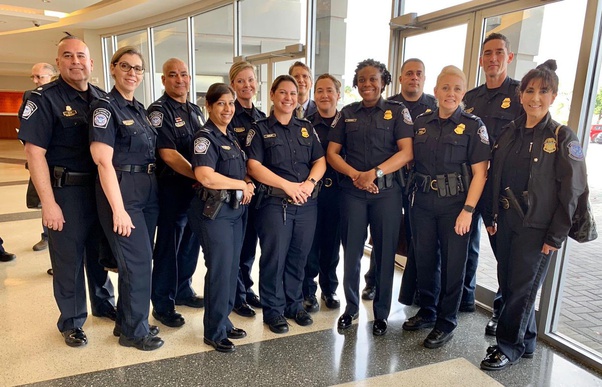 Peter Wade visited all 50 U.S. states many times
Having been almost everywhere in America, I've found most places from coast to coast to be safe and welcoming. But every once in awhile, I've happened upon a place that made me feel very unsafe.
My visit to East St. Louis, Illinois, known as the murder capital of the U.S., was one such place. Driving through America's most dangerous neighborhood in Baltimore, Maryland, near Monroe and Lanvale streets where a staggering 1 in 13 people become a victim, was pretty intense.
But one place in America made me feel most unsafe, a place that was absolutely terrifying. It has no address, so I'll provide the GPS coordinates. You can look them up on a map if you're interested.
42.775491 N, 123.928540 W
【回答】多次到过美国所有50个州
我几乎走遍了美国的每一个地方,我发现从东海岸到西海岸的大多数地方都很安全和欢迎。但是每隔一段时间,我就会偶然碰上一个让我感到非常不安全的地方。
我到过的伊利诺伊州的东圣路易斯就是这样一个地方,那里被称为美国的谋杀之都。开车经过美国最危险的街区马里兰州巴尔的摩市,在门罗和兰维尔街附近,每13个人中就有一个人成为受害者,这让我很紧张。
但是在美国有一个地方让我感到最不安全,一个绝对可怕的地方。它没有地址,所以我会提供GPS坐标。如果你感兴趣的话,你可以在地图上找到这个地方。
42.775491 N,123.928540 W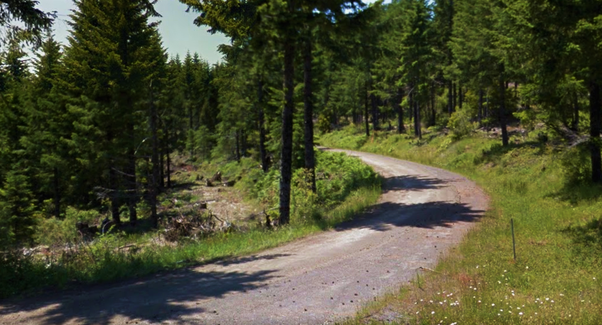 There we were, driving through the remote Oregon woods near the Wild Rogue Wilderness. A friend of mine drove the car, helping me complete my crazy mission of seeing every point of interest in America. Driving along the rural road pictured above, we were checking off another national forest, and then heading to the macabre place where Dewitt Finley was buried by a snowstorm on Bear Camp Road for six months, followed by the place where the Kim family was infamously trapped. A link to information on that road appears at the end of this post. If you get into trouble out here, there is no cell phone reception and nobody to help you. There are many remote places like this in the United States, but there is so much more to the story. The unpaved roads went for miles and miles and miles. It was an uneasy feeling, but simultaneously serene, peaceful, quiet. That only masked the real terror in the dark forest.
我们就在那里,驾车穿过偏远的俄勒冈州森林,靠近野生罗格河荒野。我的一个朋友开车,帮我完成了这个疯狂的任务,就是看看美国的每一个景点。我们沿着上图所示的乡村公路行驶,核对另一片国家森林,然后前往德维特·芬利在熊营地路上被暴风雪埋了六个月的可怕地方,紧接着就是Kim家族臭名昭著被困的地方。这条路的信息链接,会在这篇文章的末尾附上。如果你在这里遇到麻烦,这里没有手机信号,也没有人来帮你。在美国有很多像这样的偏远地区,但故事远不止这些。未铺设的道路绵延数英里。这是一种不安的感觉,但同时也很宁静、平和、安静。这只是掩盖了黑暗森林中真正的恐怖。
The horrifying adventure
I had to pee. We stopped the car on the side of the gravel road, not far from the edge of a cliff. I stepped out. It was about that time that a giant flash of brown fur bolted past me. This enormous bear nearly the size of our car had been eating on the cliff's edge out of view, and I had caught it off guard. The great creature bolted up the sheer incline like it was flat ground, racing within inches of me and scurrying up the opposite bank with ease. Had it actually been pursuing me, I would have no chance of escape. This is an animal that can outrun me, outclimb me, and outswim me.
Indeed, these aren't nearly as aggressive as grizzly bears nor polar bears, both of which I've also seen in the wild. But the number of bears in this location was shocking, and the bears that worried us the most were the females we saw with babies. Honestly, at this point, peeing wasn't my biggest concern.
恐怖的冒险
我要尿尿。所以我们把车停在离河岸不远的碎石路边。我走了出去。大约就在那时,一身棕色的皮毛从我身边飞奔而过。这只和我们汽车差不多大小的巨熊一直在看不见的悬崖边吃东西,我趁它没有防备的时候抓拍了它。那头大家伙像在平地一样冲上陡峭的斜坡,在离我不远的距离,轻松地跑到对岸。如果它真的在追我,我就没有机会逃跑了。这种动物跑得比我快,爬得比我快,游得也比我快。
事实上,它们并不像灰熊和北极熊那样具有攻击性,我在野外也见过这两种熊。但是这个地方的熊的数量很惊人,最让我们担心的是我们看到带着幼崽的母熊。老实说,在这一刻,尿尿不是我最担心的。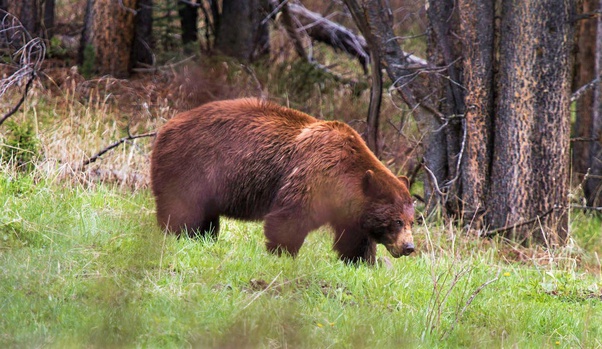 It was the fact that we were running low on gas (because this side trip was completely spontaneous), there was no civilization for a long way, and the prospect of walking for hours to find the nearest paved road while passing female bears during the precise season in which they all had cubs in is what petrified us, far more than seeing grizzlies and polar bears at a safe distance.
That glimpse of cold, dead eyes of the bear that ran past me, eyes that didn't care if you ever saw your loved ones again, had me flustered and rattled. But I thought about it logically. From past experience, after seeing one bear or a group of bears, I had never seen a second bear or second group just a mile away, not even in Alaska with a high density of grizzlies. Spotting bears was random and infrequent, so the chances of being in danger just a mile down the road were low, or so I thought. So we drove a little ways and stopped again. I looked both ways before exiting the car.

事实上,我们的油快用完了(因为这趟旅行完全是自发的),很长一段路都没有人烟,在母熊产崽的那个精确季节,走上几个小时去寻找最近的公路,这比在安全距离看到灰熊和北极熊更让我们害怕。
那头从我身边跑过的熊冰冷的、死气沉沉的眼睛,那双不在乎你是否还能再次见到你所爱的人的眼睛,让我慌乱不安。但是我从逻辑上考虑了一下。根据过去的经验,在看到一头熊或一群熊之后,我从来没有在一英里之外看到过第二头熊或第二群熊,甚至在灰熊密度很高的阿拉斯加也没有。发现熊是随机的,并不频繁,所以在一英里外遇到危险的可能性很低,至少我是这么认为的。于是我们开了一段路,又停了下来。下车前我向两边看了看。

Standing at the edge of the woods, where the forest encroached into the gravel but still too nervous to walk in very deep, I was ready to complete the task. Surely that was the only bear we'd see today. And then, my worst fear came true. A horrendous crashing sound nearby broke the silence, some huge animal bounding through the trees and snapping large branches with its girth like they were little twigs. It was another massive bear that came far too close for my comfort. I had startled the creature, and I was again very thankful it didn't attack me. This beast was at least four times my size, and something smaller ran through the brush as well, perhaps a cub!
They are everywhere
We began to realize that the bears were all around us. Not one, not two, probably hundreds! When we started to pay attention as we continued driving, we could see them moving through the woods, at least one every couple of minutes. I had never seen anything like it, and I've been all over the world. We saw more than 50 bears for sure, including female bears with cubs. I still have this vivid image in my head of a female bear we saw standing against a tree, easily seven feet tall, looking up at two cubs climbing down the trunk, then back at us, then back at the cubs, and then back at our car. She was not happy to see us. In fact, these animals probably hadn't seen a human being in a very long time on these remote roads. You could sense that this was their domain, not ours.

我站在森林的边缘,那里的森林已经侵占了碎石,但我还是太紧张,不敢走得很深,我已经准备完成任务了。那肯定是我们今天看到的唯一一头熊了。然后,我最害怕的事情发生了。附近一阵可怕的撞击声打破了寂静,一些巨大的动物跳跃着穿过树林,用它们的身体折断了大树枝,就像折断小树枝一样。那是另一头巨大的熊,离我太近了,让我很不舒服。我吓了它一跳,再次感激它没有攻击我。这头野兽至少有我的四倍大,还有一些小一点的动物跑过了灌木丛,也许是幼崽!
它们无处不在。
我们开始意识到熊就在我们周围。不是一头,不是两头,可能是几百头!当我们开始集中注意力继续开车时,我们可以看到它们穿过树林,至少每隔几分钟就有一头。我走遍了世界各地,我从来没有见过这样的景象。我们肯定看到了超过50头熊,包括带着幼崽的母熊。我脑海中仍然有这样一个生动的画面:我们看到一头母熊靠着一棵树站着,身高至少有7英尺,抬头看着两只小熊从树干上爬下来,然后又看着我们,然后又看着小熊,最后又看着我们的车。她见到我们很不高兴。事实上,这些动物可能已经很久没有在这些偏远的道路上看到人类了。你可以感觉到这是它们的领地,而不是我们的。

The density of the bears
By this point, I had driven on practically every rural road in America while chasing down random travel goals, even off-limits logging roads from Washington to Maine. But I had NEVER seen anything like this density of bears; not in Yellowstone, not in North Cascades, not even the grizzly bears in Alaska. It seems we had inadvertently stumbled upon the bear capital of the contiguous 48 states! We never saw another human being, not for hours until we found a paved road. This forest contained two idiot tourists, and hundreds upon hundreds of bears. It was the most unsafe I've ever felt.
Final assessment
I was nervous hiking in Alaska's grizzly bear country, and being around polar bears in Churchill, and standing face to face with a mountain lion (story below). But there was something about being in the middle of Oregon with huge bears at every single turn while running low on gas that was terrifying! It was very surreal!

熊的密度
到目前为止,我在追寻随机旅行目标时,几乎开遍了美国的每一条乡村公路,甚至从华盛顿到缅因州的禁伐区道路。但是我从来没有见过这么密集的熊,在黄石公园没有,在北喀斯喀特国家公园没有,甚至在阿拉斯加的灰熊也没有。看来我们无意中发现了毗邻48个州的熊之都!我们一直没有看到其他人,几个小时都没有看到,直到我们找到一条铺好的路。这片森林里有两个愚蠢的游客,还有成百上千的熊。这是我感觉到的最不安全的时刻。
最终评估
我在阿拉斯加的灰熊之乡徒步旅行时很紧张,在丘吉尔镇与北极熊为伍,我和美洲狮面对面站着。但是在俄勒冈州的中部,每一个转弯处都有巨大的熊,而且汽油不足,这真的太可怕了!这是非常超现实的!

I could potentially negotiate with a rough customer in East St. Louis or Baltimore or Camden. But there is no negotiating with a bear, especially one with cubs. Therefore, I've never felt more unsafe in America. But I will admit the adrenaline rush was worth every moment.
Fact: These animals have brown fur, but they're actually called black bears. And they get really big in Oregon!

我可能会和东圣路易斯或巴尔的摩或卡姆登的粗暴客户进行谈判。但和熊是无法谈判的,尤其是带着小熊的熊。所以,我在美国从未感到如此不安全。但我要承认,这种每一刻肾上腺素都在激增的感觉是值得的。
事实:这些动物有棕色的皮毛,但它们实际上被称为黑熊。而且它们在俄勒冈州非常大!

Chris Snyder
In more than 50 years, I've traveled much of the USA, North America and even of Europe; I've walked miles through the inner city public housing projects of Washington DC, with no other white faces in sight, as a single unarmed woman, just as I did throughout European cities, and I've hiked alone through dark woods without a light where massive beasts I could not see were snorting at me to chase me away from their home (probably deer). But the most terrifying experience I had was as a young teenager, when my vacationing family's car broke down near a small town and had to get towed in for repairs.
Every single person in that town seemed a bit weird in their interactions with us, though they were outwardly polite, they seemed displeased with our presence and were watching us all the time with an almost predatory intensity, a sort of dead-eyed stare that was measuring us with no empathy, though tried to conceal their interest to our faces. It was late afternoon when our car arrived at the repair shop, and the repairs took many hours, and we could not even be sure if they'd get done that day. So we ended up walking through the town to get ourselves a meal and to try to find a place where we might get lodging if the repairs took more than one day. My brother and I would usually take any opportunity to run and explore and play, but I think everyone in our family was experiencing the hairs standing up on the backs of our next as we felt eyes watching us from all sides, though we could never seem to spot folks staring at us. So for once my brother and I were glued to my parents' sides like shy toddlers, we just couldn't help ourselves.

【回答】
在过去的50多年里,我走遍了美国、北美甚至欧洲的大部分地区;我作为一个手无寸铁的单身女性,走过华盛顿特区的市中心公共住房项目,没有其他白人面孔的地方,就像我在欧洲各个城市所做的那样。我独自徒步穿过没有灯光的黑暗树林,看不见的巨大的野兽朝我喷鼻息,要把我赶出它们的领地(可能是鹿)。但是我最可怕的经历,还是在我十几岁的时候,当时我和家人在度假,我们的车在一个小镇附近抛锚了,不得不被拖去修理。
镇上的每一个人在和我们交流时都显得有点古怪,尽管他们表面上很有礼貌,但他们似乎对我们的出现感到不满,并且一直以一种近乎掠夺性的目光注视着我们,一种死气沉沉的眼神,毫无同情地打量着我们,尽管他们试图掩饰对我们的兴趣。当我们的汽车到达修理店的时候,已经是下午晚些时候了,修理工作花了好几个小时,我们甚至不能确定他们那天是否能完成。所以我们最后只好步行穿过城镇去吃顿饭,并打算找个地方,如果修理超过一天的话,我们可以在那里寄宿。我和哥哥通常会抓住任何机会跑步、探险和玩耍,但我想我们家里的每个人都感到毛骨悚然,因为我们感到有人从四面八方注视着我们,尽管我们似乎从来没有发现有人盯着我们。所以这一次,我和哥哥像害羞的小孩一样紧紧地粘在父母身边,我们无法控制自己。

We did get a meal, though it was hard to eat anything with our hair standing on end, feeling like we might end up being on the menu, and then we found a boarding house, but we were getting serious Bates Motel vibes from the place, so we didn't put money down on a room there, but went back to the repair shop and my dad offered the repair man to pay double-time for his overtime hours if he could complete the work that evening so we could get out of there yet that day, and he accepted. We couldn't stand waiting at the repair shop in the center of town, where the "go away!" vibe was strongest, so we walked a few blocks to the beach, and tried to hang out there until the time the repairman had said to be back. But even on the beach we couldn't relax and play in the water, as we usually do at every beach, instead we stuck together and found a place to sit down where we could not be seen from the road, and my parents were facing in opposite directions from each other watching the road approaches through the screening trees, while my brother and I tried to distract ourselves with the sand but our "play" was absolutely silent, though we were trembling.
At the appointed time, we walked back for our car and were so relieved when it was ready - Dad paid our bill and we piled into the car and left ASAP, despite being hungry and tired, we just couldn't relax until we were several hours down the road, mom and dad agreed they'd rather take turns driving through the night rather than look for a campground in that state at such a late hour. While we were in the small town we didn't talk about our fears, that would have made them overwhelming, but once we were well and truly away, and the hair on the back of our necks had finally relaxed, we began comparing our symptoms with each other and confirmed that we were all very scared, though we could never pinpoint what it was about the place that was so upsetting. We all felt like we were lucky to escape that place, though nothing had happened to justify that feeling. To this day I do not think that we were just imagining the threat, but I have no desire to find out what it was that was threatening us. I don't think we were wrong to trust our instincts and leave as soon as we could get away, and try to not attract attention in the mean time.

我们确实吃了一顿饭,尽管我们的头发都竖起来了,很难吃任何东西,感觉我们可能最终会出现在菜单上,然后我们找到了一家寄宿公寓,但我们从那里强烈感受到了贝茨汽车旅馆的氛围,所以我们没有在那里订房间,而是回到了修理店,我爸爸提出,如果修理工能在当晚完成工作,那么我们就可以离开那里,他愿意付加班费,他接受了。我们无法忍受在镇中心的修理店等待,在那里"滚开!"的气氛很强烈,所以我们走了几个街区去海滩,打算在那里待到修理工说回来的时候。但即使是在海滩上,我们也不能像往常一样放松下来,在水里玩耍,而是聚在一起,找到一个从路上看不到我们的地方坐下来。我的父母面朝相反的方向,看着这条穿过树丛的道路,我和弟弟试图用沙子转移注意力,但我们的"游戏"绝对是安静的,尽管我们在发抖。
到了约定的时间,我们走回去取车,车子准备好了,我们松了一口气,爸爸付了账,我们挤进车里,尽快离开了,尽管又饿又累,我们还是无法放松,直到在路上开了几个小时,爸爸妈妈一致认为他们宁愿夜里轮流开车,也不愿在这么晚的时候去找一个露营地。当我们在这个小镇的时候,我们没有谈论我们的恐惧,那会让恐惧压倒我们,但是一旦我们真正地离开,我们脖子后面的头发终于松弛下来,我们开始相互比较我们的反应,并且确认我们都非常害怕,虽然我们永远无法确定这个地方到底是什么,让我们如此不安。我们都觉得自己很幸运能够逃离那个地方,尽管没有什么事情能够证明这种感觉是正确的。直到今天,我并不认为我们只是在想象这种威胁,但我也不想知道是什么在威胁着我们。我认为我们相信自己的直觉,一有机会就离开,同时尽量不引起别人的注意,这并没有错。

Robert Blevins Co-Founder at Adventure Books of Seattle (2003-present)
Many years ago, I was on a hitchhiking trip across the United States that lasted for about eighteen months. I had a lot of fun and back in those days I didn't feel unsafe in most situations. You just had to check out the person who might offer you a ride. (This was back in the mid-70's when hitching was a bit safer than it is today.)
One time I had to walk across the city of Oakland, California which is quite a long walk, and a few times I didn't feel all that safe. There I am walking along with this large, expensive backpack full of first-class camping gear, and I wondered sometimes if I would have to drop it on the ground and just run.
Fortunately, I made it safely across the city.

【回答】西雅图冒险图书公司 联合创始人(2003年-至今)
许多年前,我搭便车穿越美国,旅行持续了大约18个月。我玩得很开心,回首那些日子,我在大多数情况下都不觉得不安全。你只需要了解清楚可能会载你一程的人。(这要追溯到70年代中期,当时搭便车比现在要安全一些。)
有一次,我不得不穿过加利福尼亚州的奥克兰市,这是一段相当长的路程,有几次我感觉不那么安全。我背着一个又大又贵的背包走着,里面装满了一流的露营装备,有时我在想,我是不是必须把它扔在地上,然后就跑。
幸运的是,我安全地穿过了这座城市。

Paul Frost
San Jose International Airport on the way to the passport control desk.
My shoe lace had come loose & I nearly tripped over it - I bent down to tie it up & a female security guard screamed at me to get up & keep moving & already had her gun out of her holster in the 2–3 seconds from tripping to bending down.
Great welcome to the USA.

【回答】
圣何塞国际机场,在前往护照检查台的路上。
我的鞋带松了,我差点被它绊倒,所以我弯下腰把它绑起来,一名女保安尖叫着让我站起来继续走,在2到3秒的时间里她已经把枪从枪套里拿出来了,从我绊倒到弯下腰之间。
美国的热烈欢迎。

Remy Martin former Professor/Instructor at Riverside Community College (1978-1990)
Where in America have you felt the most unsafe?
I felt most unsafe at the Mexican Border.

【回答】前河滨社区学院教授/讲师(1978年-1990年)
你在美国哪里感到最不安全?
在墨西哥边境我感到最不安全。

Jason Freedman lives in The United States of America
The largest city here I've been to is Los Angeles. Been there three times now. Maybe I haven't spent enough time there, but the only thing that made me feel were the shitty drivers. I felt most unsafe when I was in Paris and was being followed by a group of junkies who later pickpocketed me.

【回答】住在美利坚合众国
我去过的这里最大的城市是洛杉矶。到现在已经去了三次了。也许我在那里待的时间不够长,但唯一让我感觉不安全的是那些糟糕的司机。我在巴黎的时候感觉最不安全,被一群瘾君子尾随,后来还偷了我的钱。