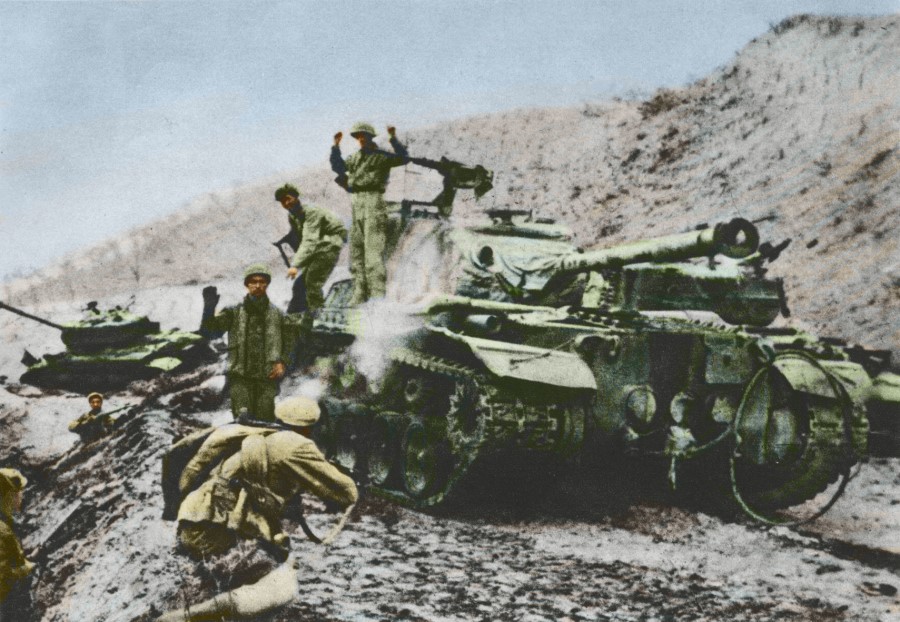 steezefabreeze
It's crazy to think that China and the US directly duked it out and that Russia and the US never actually directly fought each other.
认为中国和美国直接打了一仗,而俄罗斯和美国实际上从未直接打过一仗,这种想法很荒唐。
Allin4Realzies
The US and USSR did directly fight each other in the air. Though it wasnt disclosed until after the fall of the USSR, US F-86 sabres did in fact fight Soviet pilots, piloting Mig-15's in the air over Korea.
美国和苏联确实在空中直接对抗过。虽然直到苏联解体之后才被披露,但美国F-86佩刀确实与苏联飞行员发生过战斗,驾驶米格-15在朝鲜上空。
CunchaBunts
They also got into a friendly-fire incident during WWII if you're counting direct, accidental confrontation.
如果算上直接的、意外的冲突,他们在二战期间也卷入了一场友军误伤事件。
bluewaffle2019
China and the USSR had some pretty hefty border wars too. 1962 I think.
中国和苏联也有一些相当猛烈的边界战争。我想是在1962年吧。
_-null-_
'62 was with India, the Chinese-Soviet border war was in '69
62年是和印度的战争,中苏边境战争是在69年。
poincares_cook
My uncle died in that war, never really got to know him
我叔叔死于那场战争,我从未真正了解过他
TheCommissarGeneral
Which side?
哪一边?
poincares_cook
Russian
苏联那边。
PulseAmplification
Yep, this was during the Sino Soviet Split, when China and Soviet Russia almost nuked each other. All of it was mostly over an ideological difference combined with border disputes.
是的,这是在中苏分裂时期,当时中国和苏俄差点用核武器相互攻击。所有这一切主要是因为意识形态差异加上边界争端。
ununpentium1111
..and those border wars are such an interesting topic! yet no documentaries exist sadly. I recall one of the biggest battles were fought over a crappy little island or peninsula like 2 km long and half kilometer wide with not even grass on it. (cant recall the name of the island, but it was the name of the conflict too) The most fascinating part was when the soviet commander's (?) tank was disabled and there was a mad battle to capture the tank, like a victory flag... in the end the chinese took the tank and it still sits in a museum somewhere
..那些边境战争真是个有趣的话题!可惜没有纪录片。我记得最大的战役之一是在一个2公里长,半公里宽,甚至连草都没有的破烂小岛或半岛上打的。(记不起那座岛的名字了,但那也是冲突的名字)最吸引人的部分是苏联指挥官的坦克瘫痪了,为了夺取坦克展开了一场疯狂的战斗,就像夺取胜利的旗帜... 最后中国人夺走了坦克,它仍然在某个博物馆里。
MostEpicRedditor
Zhenbaodao/Damansky
珍宝岛/达曼斯基
ununpentium1111
Thanks! You guys are faster than wikipedia :)
谢谢! 你们比维基百科快多了 :)
teasers874992
America chose to lose to the Chinese. We have North Korea now.
Edit:I'm sort of shocked that people disagree. It was obviously a massive and pathetic failure of a war. We allowed China to win the war when we were way stronger. MacArthur was right, which is obvious in hindsight. Do you people think surrendering to the Chinese at the DMZ was a good outcome?How is that not an utter failure? Now North Korea is a huge problem. Meanwhile China didn't even have nukes. So pathetic to lose that war against the Chinese.
美国选择输给了中国。我们现在有朝鲜了。
编辑:我对有人不同意感到有点震惊。这显然是一场大规模可悲的战争失败。当我们更强大的时候,我们让中国赢得了战争。麦克阿瑟是对的,事后看来这是显而易见的。你们认为在三八线向中国人投降是个好结果吗?
这怎么能不是彻底的失败呢?现在朝鲜是个大问题。与此同时,中国当时甚至没有核武器。输掉那场与中国人的战争非常可悲。
teasers874992
I agree if they stopped at 38th China would have stayed out.
But don't you think if the US wanted to they could have sacrificed more/spent more to take all of Korea? Considering the power imbalance.
我同意,如果他们停在三八线,中国就不会出现了。
但是,难道你不认为如果美国愿意,他们可以牺牲更多/花费更多来夺取整个朝鲜吗?考虑到实力不平衡。
MostEpicRedditor
I don't think so. The power imbalance was extreme at the beginning and the delivery of Soviet weaponry was delayed, but by late 1952 and certainly by early to mid-1953 it was pretty clear that the PVA was beginning to achieve near-parity with UN forces at least in terms of land-based firepower (e.g. artillery, tanks, etc.) while the logistical issues that plagued the PVA at the beginning were gradually being sorted in mid-1951 and were far less of an issue (but still one nonetheless) by the time the war ended. Air cover was also increased as the number of planes in the PLAAF (and the pilots trained to fly the MiGs) gradually grew, in which air cover was no longer just provided to around the Yalu.
Even if the Soviets did not eventually get involved, as the war dragged on the initial disadvantages the PVA had would slowly become less of a factor. Yes the US could have sacrificed and spent more, and so could China. It was viewed by China as an existential threat if the war was lost, and honestly they did not need to convince the average person in China into believing that. Mao had openly stated the intent to stay at war indefinitely, and that it was up to the current US president, if not then the future US presidents, to decide when the war should end.
For how long would the war last for the US to finally defeat the PVA? I don't know, because I am of the opinion that if the US did not defeat the PVA decisively before 1956 or so, then the balance would have shifted enough such that the PVA could have started to slowly push south again. Only instead of light infantry leading the charge, it would probably be led by a spearhead of brand-new T-54s and under the air cover of MiG-17s. It is more probable that the US would have proposed a ceasefire before this scenario ever got to materialize.
我不这么认为。一开始实力的不平衡很极端,苏联武器的交付被推迟了,但是到了1952年末,当然1953年初期到中期也很明显,志愿军开始接近联合国部队的水平,至少在地面火力(如大炮、坦克等)方面是这样的,而后勤问题在1951年中期开始逐渐解决,到战争结束时,志愿军的后勤问题已经不再是一个大问题(但仍然是一个问题)。随着解放军空军(以及受过驾驶米格战机训练的飞行员)的飞机数量逐渐增加,空中掩护也随之增加,不再仅限于鸭绿江附近地区了。
即使苏联最终没有参与进来,随着战争的持续,志愿军最初的劣势也慢慢变得不是那么重要的因素。是的,美国本可以牺牲更多,花费更多来取胜,但中国也可以。中国认为,如果战争失败,这是一种生存威胁,而且老实说,他们不需要说服中国的普通民众相信这一点。毛曾公开表示,打算无限期地停留在战争状态,战争何时结束取决于现任美国总统,甚至是未来的美国总统。
这场战争将会持续多久,美国才能最终打败志愿军?我不知道,因为我的观点是,如果美国在1956年之前没有决定性地打败志愿军,那么平衡就会发生足够的转变,志愿军就会开始慢慢地再次向南推进。只不过不是由轻步兵带头冲锋,而是由全新的T-54先头部队在米格-17的空中掩护下带头。更有可能的是,在这种情况实现之前,美国会提出停火。
teasers874992
I'm not sure how it will work itself out. Yes no doubt USSR was bigger threat. But we let our obsession with the USSR blind us to the geopolitical gains we could have achieved in Korea. I think there was a window of opportunity to take the north without WW3. You're saying China was next target after USSR? My understanding is that the US was so focused on USSR that they supported China. Every Chinese leader since, has been overly paranoid about the US wanting to overthrow them when actually the US supported China in huge ways.
But I agree with much of what you said. I guess a stalemate was inevitable.
我不确定这情况会如何解决。是的,毫无疑问苏联是更大的威胁。但是,我们让对苏联的痴迷蒙蔽了我们的双眼,使我们看不到我们本可以在韩国取得的地缘政治成果。我认为在没有第三次世界大战的情况下攻占北部是有机会的。你是说中国是继苏联之后的下一个目标?我的理解是,美国是如此关注苏联,以至于他们支持中国。自那以后的每一位中国领导人,都对美国想要推翻他们过于多疑,而实际上美国在很大程度上支持中国。
但是我同意你的大部分观点,我想僵局是不可避免的。
MostEpicRedditor
By China being the next target, I am referring to that there would no longer be a geopolitical purpose of the PRC to the West after the USSR dissolved. Of course the next target would be the PRC itself, as the temporary alliance was forged out of necessity rather than anything else, and both would go back to being adversaries once the common threat is removed. I would not be surprised if the US and other Western nations decided to forge a similar alliance with Russia to counter China. You can argue they already tried before, but Putin is very familiar with CW geopolitics so he isn't as easily fooled, probably.
Anyway we are probably going to start disagreeing with each other very strongly soon, so it's better to just end it here.
我说的中国成为下一个目标,指的是在苏联解体后,中国对西方不再有地缘政治目的。当然,下一个目标将是中国本身,因为这个临时联盟是出于必要而不是其他任何原因,而且一旦共同的威胁消除,两国又会重新成为对手。如果美国和其他西方国家决定与俄罗斯结成类似的联盟,来对抗中国,我不会感到惊讶的。你可以说他们以前已经试过了,但是普京非常熟悉CW的地缘政治,所以他可能不会那么容易被愚弄。
不管怎样,我们很可能很快就会开始强烈反对对方,所以最好就在这里打住。
teasers874992
I agree that the US should have tried to counter China, it just turns out that the US never stopped building them up and supporting them, eventually believing that China's rise was good for the US. Finally that is coming to an end largely thanks to trump. I think the Russia/western alliance is inevitable. Russia gdp smaller than Italy, stands no chance against its neighbor, and yet they have huge problems with the China.
What ideas do you predict we will start disagreeing strong on? We can end it if you want but if you don't mind telling me what those are. I'm very curious.
我同意美国应该试图对抗中国,但事实证明,美国从未停止建设和支持中国,最终相信中国的崛起对美国有利。最后,这种情况即将结束,这在很大程度上要归功于特朗普。我认为俄罗斯与西方的联盟是不可避免的。俄罗斯的国内生产总值比意大利小,没有机会对抗它的邻居,而且他们与中国之间有着巨大的问题。
Vanderkaum037
Captain hindsight to save the day.
When you say "we" allowed China to win. Were you one of our under-trained, under-equipped American soldiers sent over from Japan? Were you in a frozen foxhole strangling battle-hardened, fanatical Korean and Chinese soldiers who had been fighting the Japanese most of their lives and were now armed with Soviet weapons? Were you in one of the USMC battalions that suffered massive casualties?
Were you going to storm the by-then heavily fortified mountain passes that the Chinese had built up during UN negotiations?
Always keyboard warriors going hard.
McArthur was right? Listen, McArthur was not just wrong, he was negligent. His army was not prepared for that war and got good American killed in the beginning. His negligence near the Yalu provoked the Chinese into joining the war and got Americans killed. Next, he wanted to nuke our way out of that clusterfuck, which he caused, which would have been a massive propaganda victory for the soviets and set a horrific precedent.
McArthur was the most overrated commander in WW2. He excelled as a media personality, political player and most of all as governor of Japan, where he did a fantastic job, but his military career was pretty lackluster.
It's easy to take a hard line when you weren't there. We had just fought world wars on 3 different continents. Americans didn't want to send their sons to die in Korea anymore. Life is not a video game.
马后炮队长拯救了世界。
当你说"我们"让中国赢了。你是我们从日本派来的训练不足、装备不足的美国士兵吗?你是否在一个冰冻的散兵坑里,击败那些身经百战、狂热的朝鲜和中国士兵?他们大部分时间都在与日本人作战,现在配备着苏联的武器。你是否是伤亡惨重的美国海军陆战队的一员?
你打算猛攻中国在联合国谈判期间建立的戒备森严的山口吗?
键盘战士总是很努力工作。
麦克阿瑟是对的吗?听着,麦克阿瑟不仅错了,他还粗心大意。他的军队没有为那场战争做好准备,一开始就害死了优秀的美国人。他在鸭绿江附近的疏忽激怒了中国人加入战争,并让美国人被杀害。接着,他想用核武器把我们从他制造的混乱中解救出来,这对苏联来说将是一场巨大的宣传胜利,并树立了一个可怕的先例。
麦克阿瑟是二战中最被高估的指挥官。他作为媒体人物、政治人物,最重要的是作为日本知事表现出色,他在那里工作出色,但他的军事生涯却相当平淡。
当你不在现场的时候,很容易就会有强硬态度。我们刚刚在三个不同的大陆上进行了世界大战。美国人不想再把他们的儿子送到朝鲜去送死了。生活不是电子游戏。
brudd_be_rad
Wow.. never saw this.
哇..我从没见过这张图片。
556ThroughMyLung
History is cool right? Especially when we have pictures, videos and other things to look at.
历史很酷吧? 特别是当我们有图片、视频和其他东西可以看的时候。
brudd_be_rad
It's profound. Especially living history. 15 years ago I would sit Melancholy, thinking how the men that stormed Omaha or survived Auschwitz, Or huddled in the tractor Factory at Stalingrad. My last grandparent died at 91 last year. Those memories of the day Pearl Harbor was attacked or victory in Europe day, or sending off her future husband At the train station as he boarded to head to basic training are all gone
这是很深刻的。尤其是活生生的历史。如果在15年前的话,我会坐在那里,忧郁地想着那些冲进奥马哈或者从奥斯维辛集中营幸存下来的人们,或者蜷缩在斯大林格勒的拖拉机工厂里的人们。我最后的祖父母去年去世了,享年91岁。那些珍珠港被袭击的日子,或者欧洲战争胜利的日子,或者送她未来的丈夫去火车站接受基本训练的日子,都一去不复返了。
lizardladder
I think about this all the time. I was fortunate enough to interview my Great-Uncle while he was still alive. I will tell the next generation his stories of being deployed to Holland, how he met his future wife there after crashing his bicycle and she came to help him up. How the closest he ever came to being killed was when American planes mistook him and his men for Germans on the road. I think about all the countless other experience he didn't share, and how now they are all gone, forever. How that war and the men who fought will someday be as distant as those relegated solely to textbooks and footnotes. Makes me sad.
我一直在想这个问题。我有幸在我的叔祖父还活着的时候,和他面谈。我会告诉下一代他被派遣到荷兰的故事,他是如何在那里撞坏自行车后遇到他未来的妻子,她帮助他站起来。在美国飞机上,他和他的人被误认为是德国人,这是他最接近死亡的一次。我想起了所有他没有分享的无数其他经历,以及现在这些经历是如何永远地消失了。有朝一日,这场战争和那些曾经参战的人们,将会像那些只被归类为教科书和脚注的东西一样遥远。让我很难过。
sofa_king_awesome
Maybe gone, but not forgotten. The memories of them exist with you.
也许已经过去了,但是没有被忘记。关于他们的记忆和你同在。
brudd_be_rad
But they are echoes. Like reading a scr1ipt
但它们是回声,就像读剧本一样
CobraOnAJetSki
MacArthur got a big head and took his expeditionary force too close to the Yalu river.
麦克阿瑟很头铁,带着他的远征军离鸭绿江太近了。
Rysander
The situation would be way easier today if he had just stopped a couple hundred miles short of the Yalu. With Pyongyang and most of the large ports on the east and west coast, the remaining strip of land would not be habitable for garrisoning an army. The no mans land could have served as a political and military buffer until diplomacy with a more established China could be secured.
如果他在鸭绿江边几百英里的地方停下来的话,今天的情况会容易得多。由于平壤和东西海岸的大多数大型港口,剩下的狭长地带不适合驻军。在与一个更加稳固的中国进行外交之前,无人区本可以作为一个政治和军事缓冲区。
SonsofStarlord
While I agree with your assessment, I believe MacArthur was the wrong general from a different war and time period. But to your point, I don't think there was going to be anyway to keep the Chinese out of the war. Mao didn't want a US supported and US leaning country on the border. NK is basically a client state of China, that serves as buffer between the US and them.
虽然我同意你的评价,但我认为麦克阿瑟是来自不同战争和不同时期的错误将军。但是对于你的观点,我认为无论如何都不会有阻止中国人参战的办法。毛不希望边境上出现一个支持美国、倾向美国的国家。朝鲜基本上是中国的附属国,是美国和中国之间的缓冲地带。
DarthRoach
MacArthur was the wrong general from a different war and time period.
MacArthur's conduct in WW2 was worse than that in Korea. Not least because he finally got shown the door.
麦克阿瑟是来自不同战争和不同时期的错误将军。
麦克阿瑟在第二次世界大战中的表现比在朝鲜还要糟糕,尤其是因为他最终被开除了。
SonsofStarlord
I understand but I was talking in terms of the type of military actions that's acceptable. The Cold War was in full swing and I don't think he fully understood the difference from Korea and WW2. And this was years before the split between Russia and China. Nuking China would inevitably lead to a nuclear exchange.
我明白,但是我说的是可以接受的军事行动类型。冷战正在全面展开,我认为他没有完全理解朝鲜战争和二战的区别。那是在俄罗斯和中国分裂之前的几年。核打击中国将不可避免地导致核战争。
Porn_research_acct
Didnt he want to use nukes in that war?
难道他不想在那场战争中使用核武器吗?
arandomcanadian91
Yes he wanted to nuke China that's why his command got revoked.
是的,他想用核武器攻击中国,所以他的指挥权被撤销了。
MostEpicRedditor
But to your point, I don't think there was going to be anyway to keep the Chinese out of the war
There was. The original warnings were to not cross the 38th but the Coalition did it anyway. Then they started bombing the Chinese side of the Yalu while advancing further north of Pyongyang. Mao and the PLA generals at the time knew it was going to be a complete bloodbath and were very reluctant to enter the war, and would have preferred to not have to fight at all if the Americans at least stopped at the DPRK capital. But nahhhh there would only be the greatest slaughter if the Chinese dared to step in our way, and Mao declared American planes, ships, and tanks to just different forms of paper tigers. And he got proved right in the end, and MacArthur got what he deserved (i.e. fired) after he kept wanting to use nukes against Chinese which spat in his face.
"但是对于你的观点,我认为无论如何都不会有阻止中国人参战的办法"
有的。最初的警告是不要越过三八线,但联盟军还是那样做了。然后他们开始轰炸鸭绿江的中国一侧,同时进一步向北推进到平壤。毛和人民解放军将领当时知道这将是一场彻底的大屠杀,他们非常不愿意参战,如果美国人至少停留在朝鲜首都,他们宁愿不战斗。但是,没有,如果中国人胆敢阻挡我们的道路,那会是最大的屠杀,而毛称美国的飞机、舰船和坦克只是不同形式的纸老虎,那才会是最大的屠杀。他最终被证明是正确的,而麦克阿瑟得到了他应得的(即被解雇),因为他一直想用核武器对付那些朝他脸上吐唾沫的中国人。
BigMeatSpecial
Right, but it was still deemed as an unacceptable escalation in a conflict that already was unpopular among the military and political circles.
If it continued on countless people would be dead with probably little to gain. Even if we beat China, the Soviet Union would mop up the remnants of the US military, especially with Europe still balls deep in reconstruction.
It was a no win scenario. I do think MacArthur had a massive ego and hero complex and let that get the best of him in this war.
对,但是这仍然被认为是不可接受的冲突升级,这场冲突在军事和政治圈子中已经不受欢迎了。
如果这种情况继续下去,那么无数的人将会死去,而且也没有什么好处。即使我们打败了中国,苏联也会彻底消灭残余的美国军队,尤其是在欧洲仍在忙于重建的情况下。
这是一个没有赢家的场景。我确实认为麦克阿瑟有一种巨大的自我和英雄情结,并让这种情结在这场战争中占了上风。
MostEpicRedditor
If the Soviet Army had entered into Korea in the first place, it would have possibly saved millions of lives as MacArthur would probably reevaluate the situation just by the presence of the Soviet soldiers being there.
如果苏联军队一开始就进入朝鲜半岛,可能会挽救数百万人的生命,因为麦克阿瑟可能会重新评估当时的形势,仅仅是因为苏联士兵在那里。
Hambeggar
Don't worry, his back up plan was "We can just nuke 'em!"
That's literally the backup plan for all nuclear powers today.
"别担心,他的后备计划是'我们可以用核武器攻击他们! '"
这实际上是现在所有核国家的后备计划。
doughnutholio
His actual plan was to drop a shitton of dirty bombs along the Yalu, making it impassable.
他真正的计划是在鸭绿江沿岸投下一大堆脏弹,使其无法通行。
LonesomeObserver
Also he wanted to put radioactive cobalt boulders on the border as well
此外,他还想把放射性钴石放在边境上
angryteabag
MacArthur wasnt some God amongst men, he had faults and flaws and it showed many times. Both in World war 2 (American retreat and surrender in Philippines in 1942 is good example, MacArthur's plan of action was directly to blame for it) and in Korea too
麦克阿瑟不是什么人中之神,他有缺点和缺陷,这在很多时候都能看出来。无论是在第二次世界大战(1942年美国在菲律宾撤退和投降就是一个很好的例子,麦克阿瑟的行动计划是直接的责任) ,还是在朝鲜。
Dhoy1
When you fight as many wars as he did, there will be bad moments. However, the guy absolutely was a phenomenal tactician. I actually read his book Reminiscences, where you can get a bit of the mindset that went in to some of his low points. His high points were pretty high. Taking from Wikipedia on the Battle of Inchon:
Most military scholars consider the battle one of the most decisive military operations in modern warfare. Spencer C. Tucker, the American military historian, described the Inchon landings as "a brilliant success, almost flawlessly executed," which remained "the only unambiguously successful, large-scale US combat operation" for the next 40 years. Commentators have described the Inchon operation as MacArthur's "greatest success" and "an example of brilliant generalship and military genius."
当你像他一样打了那么多仗,总会有不好的时候。然而,这家伙绝对是一个非凡的战术家。我实际上读过他的书《回忆录》 ,在这本书里你可以得到一些他的低谷时期的心态。他的最高点相当高。摘自维基百科的仁川登陆:
大多数军事学者认为这场战役是现代战争中最具决定性的军事行动之一。美国军事历史学家斯宾塞·C·塔克将仁川登陆描述为"一次辉煌的成功,几乎完美无瑕",在未来40年里,这仍是"唯一一次明确取得成功的大规模美军作战行动"。评论人士形容仁川军事行动是麦克阿瑟"最大的成功" ,是"才华横溢的将领和军事天才的典范"。
Emperor-Commodus
Some people in this comments section need to read The Coldest Winter and realize how much MacArthur fucked up in Korea.
在这个评论区,有些人需要读一读《最寒冷的冬天》,就会意识到麦克阿瑟在韩国搞砸了多少事。
therealJaiteh
You'll expect them to read and understand, but the problem is that they have so far accepted a General Douglas McArthur as the greatest Commander ever that using evidence and facts cannot convince them.
Thanks fr the recommendation, I'll try and read it
你可能希望他们能阅读并理解,但问题是他们迄今为止已经接受了道格拉斯 · 麦克阿瑟将军是有史以来最伟大的指挥官,使用证据和事实并不能说服他们。
谢谢你的推荐,我会去读一读的。
shmeeandsquee
Tanks often keep they turrets pointed backwards when in transit so the barrels don't accidentally hit anything. This photo is also almost assuredly recreated after the fact. Doesn't make it less true though.
坦克在运输途中经常保持炮塔朝后,这样炮管就不会意外地击中任何东西。这张照片也几乎可以肯定是事后再现的。但这并不影响它的真实性。
TimothySu2333
Operation home by Christmas
圣诞节前回家行动
Thiswaycomrads
I wonder what it was like being a prisoner If war in China.
我想知道在中国当战俘是什么感觉。
bustead
The Chinese treat prisoners relatively well. Still, expect massive starvation and lack of medical care.
中国人对待战俘相对较好。尽管如此,预计还是会有大规模的饥荒和缺乏医疗保健。
Snorri-Strulusson
In fact 21 US POWs chose to stay in China. Most of them returned to the USA eventually, however one of them stayed in China, survived the cultural revolution and generally lived an ok life. He visited the USA twice but never moved back. He died in 2004 in Shandong and was buried there. James Veneris, from Pennsylvania.
事实上,有21名美国战俘选择留在中国。他们中的大多数人最终都回到了美国,但其中一人留在了中国,在WG中幸存下来,过上了正常的生活。他去过美国两次,但再也没有回去过。他于2004年在山东去世,并葬在那里。詹姆斯·维内利斯,来自宾夕法尼亚州。
DigitalSterling
I knew about James Dresnok and the north Korean defectors, I never knew about folks staying in China. Today I learned
我知道詹姆斯·德雷斯诺克和脱北者,我从来不知道有人住在中国。今天我了解到了。
TheDJZ
Genuinely curious why Shandong of all places.
真想知道为什么偏偏是在山东。
Snorri-Strulusson
He worked in a pulp mill in Jinan and after graduating became an English professor in 1977 at Shandong university.
他在济南的一家纸浆厂工作,1977年毕业后成为山东大学的英语教授。
TheDJZ
thanks for sharing!
谢谢你的分享!
Aidenwill
Well massive starvation was also because China was recovering from the civil war and their troops too suffered from famine.
大规模的饥荒也是因为中国正从内战中恢复过来,他们的军队也遭受着饥荒。
littlezo18
These pla troops actually are mostly veterans from Chinese civil war.
这些人民解放军实际上大部分是中国内战的老兵。
TankWip
The objective of combat is to impose your will on the enemy. That means destroying either their capability or their will to fight back. If they surrender, that is their will to fight.
战斗的目的是把你的意志强加给敌人。这意味着要么摧毁他们的反击能力,要么摧毁他们的反击意志。如果他们投降,那就是他们的反击意志被摧毁。
pnt2wheremidastchedu
Murican's surrender? Surely not. This is photoshopped!
美国人的投降?当然不会。这是PS过的!
Bloody_Insane
During WW2 there were Germans held captive as POWs by Canadians, and were treated so well they were reluctant to leave afterward
第二次世界大战期间,有些德国人被加拿大人当作战俘关押起来,他们受到的待遇非常好,以至于战后他们都不愿意离开
Thiswaycomrads
Yeah. I've read a lot of that here on Reddit. Canadians did a rather great job in that aspect.
是的。我在红迪网上读到过很多这样的文章。加拿大人在这方面做得相当不错。
Glideer
If you care to read about the Korean conflict you will find that most of the troops were veterans of the Chinese civil war with very high morale.
Which is why they managed to defeat the US and allies despite having no planes, tanks and artillery.
如果你关注朝鲜战争,你会发现大多数部队都是中国内战的老兵,士气非常高昂。
这就是为什么尽管没有飞机、坦克和大炮,他们还是设法击败了美国和盟国。
Bourbon-neat-
That is completely false. Even cursory research would reveal that the PLA deployed significant artillery and later, tank and airpower strength in their intervention effort.
9 artillery divisions, 5 tank regiments, and 12 air force divisions hardly sounds like "no planes, tanks, or artillery".
这完全是错的。即使是粗略的研究也会发现,志愿军在他们的干预行动中部署了大量的火炮,以及后来的坦克和空中力量。
9个炮兵师,5个坦克团,和12个空军师听起来不像是"没有飞机,坦克,或者大炮"。
Glideer
Yes, in later stages of the war, but the initial and most serious defeats were inflicted on the USA at the Yalu river by an almost purely infantry force.
是的,这是在战争的后期阶段,但是最初和最严重的失败,是由一支几乎纯粹的步兵部队在鸭绿江给美国造成的。
Pakislav
Here I was thinking it was overwhelming manpower and initial overconfidence on part of the Americans that lead to several disasters on top of UN unpreparedness for the conflict overseas while China fought at their border.
我认为是压倒性的人海以及部分美国人最初的过度自信导致了几场灾难,此外,中国在边境作战,而联合国对海外冲突毫无准备。
Glideer
Not really. Despite the media and public misconceptions the historian now agree that the Chinese tactics was infiltration and night attacks and not crude human waves.
A severe defeat for the USA whichever way you look at it.
也不尽然。尽管媒体和公众存在误解,但历史学家现在一致认为,中国的战术是渗透和夜袭,而不是粗略的人海。
不管你怎么看,这都是美国的一次惨败。
FouR_xFearlessX
I've heard the horror stories of how the Japanese treated POW's in WWII.
我听说过日本人在二战中如何对待战俘的恐怖故事。
ClonedToKill420
As a result of how barbaric the Japanese were towards prisoners, the allies often met that brutality with brutality of their own. In Africa and Europe there was at least a small amount of chivalry between opposing forces
由于日本人对待战复如此野蛮,盟军经常以他们自己的野蛮来对付这种野蛮。在非洲和欧洲,敌对势力之间至少有一点骑士精神。
C-Jen
A BBC documentary about "the forgotten war" interviewed UK soldiers who had been captured by the Chinese.
They reported that provisions were meager but comparatively good against what the Chinese own soldiers had.
Also, they did not report physical or mental ill treatment, but they were subject to re-education lectures where talks about the wrong-headedness of capitalism and western civilization.
They said that the tone was rather like that of a teacher trying to tutor a slow child.
The UK soldiers were released and got back home to Britain, where their neighbors (who were unaware that there was a war in Korea) asked them whether they'd been on holiday.
一部关于"被遗忘的战争"的 BBC 纪录片采访了被中国俘虏的英国士兵。
他们报告说,粮食虽然匮乏,但与中国自己的士兵所拥有的相比,相对较好。
此外,他们没有报告受到身体或精神虐待的情况,但他们接受了再教育课程,在这些课程中,讲述了资本主义和西方文明的错误理念。
他们说,语气就像老师在教导一个迟钝的孩子。
这些英国士兵被释放后回到英国的家中,他们的邻居(他们不知道朝鲜发生了战争)问他们是否去度假了。
tapefoamglue
Not usual for crewed weapons to surrender without mechanical damage to the vehicle. That's not a trait of the US Army but of people in general - you don't want to be the guy in the tank that gave up first. I wonder if they were just doing maintenance at the time (gun over back deck, tow cable hanging off the rear).
在没有对车辆造成机械损坏的情况下,乘员投降是不常见的。这不是美国军队的特点,而是一般人的特点——你不会想成为第一个在坦克里认输的人。我想知道他们当时是不是在做维修(炮架在后甲板上,拖缆吊在后面)。
cvjoey
Is that an M103 in the foreground and an M46 Patton in the background?
前面那辆是M103,后面那辆是M46巴顿吗?
Luckas1203
They seem to be all M46s
似乎都是M46。
cvjoey
Possibly - the cannon is what made me really think M103 and the turret seems to be shaped like it instead of the Patton. Maybe it's an M47
可能吧,我猜是M103的原因是因为大炮,炮塔看起来像M103,而不是巴顿。也许是M47。
Griffon_2-6
M103 heavy tanks weren't in Service until after the Korean War. M47s weren't deployed to Korea as the first production run went to equip combat units in Europe. Judging by the gun mantlet, turret, and the rear exhaust they all appear to be M46 Pattons.
M103重型坦克直到朝鲜战争后才投入使用。M47并没有部署到朝鲜,因为第一批生产是用于装备欧洲的作战单位。从炮罩、炮塔和后排气管来看,它们似乎都是M46巴顿。
ownage99988
The M103 was only in use by the marines and not by the time the korean war was over
M103只在海军陆战队使用,在朝鲜战争结束时还没有投入使用。
Ricky_Boby
No, the M103 was never used in combat.
不是,M103从未在战斗中使用过。
AFXC1
Anyone know what happened to these guys?
有人知道图片这些人后来怎么样了吗?
JustZachR
They got captured by Chinese infantry. .
他们被中国步兵俘虏了。
Jman-laowai
Cool photo
很酷的照片
EpicPhilanthropist
What's the last war we won since WW2?
二战以来我们赢得的最后一场战争是什么?
DucksInaManSuit
The last one? The 2003-2011 Iraq war
最后一场? 2003年至2011年的伊拉克战争
EpicPhilanthropist
We lost in Iraq - and Afghanistan for that matter. What was accomplished?
我们在伊拉克战争和阿富汗战争中都失败了,结果呢?
Storm574
So curious if there any back story on this, why is the Tank's gun pointed directly back? I know usually they would do that and have a brace lifted to support the gun barrel for transport, did they catch the tanks in transport ?
让我感到好奇的是,为什么坦克的炮管直接指向后面,是有什么背景故事?我知道他们通常会这样做,用一个支架来支撑炮管,以便运输,他们是在运输中被俘获的坦克吗?
BouncyStickman
Either that, or they have been attacked from behind in some sort of ambush.
要么是这样,要么就是他们遭到了某种伏击的背后袭击。
Bloody_Insane
It does look like there's a block underneath the barrel so that supports the transport argument
炮管下确实有一个东西支撑,所以支持了运输的观点。
gimme_a_pew_pew
Its also a symbol for surrender. For example the US dropped leaflets over Iraqi tank units telling them to turn their turrets backwards and park in formation to surrender.So they did the same.
这行为也是投降的象征。例如,美国在伊拉克坦克部队上空撒下传单,告诉他们将炮塔向后转并保持队形投降。所以他们那时也这样做。