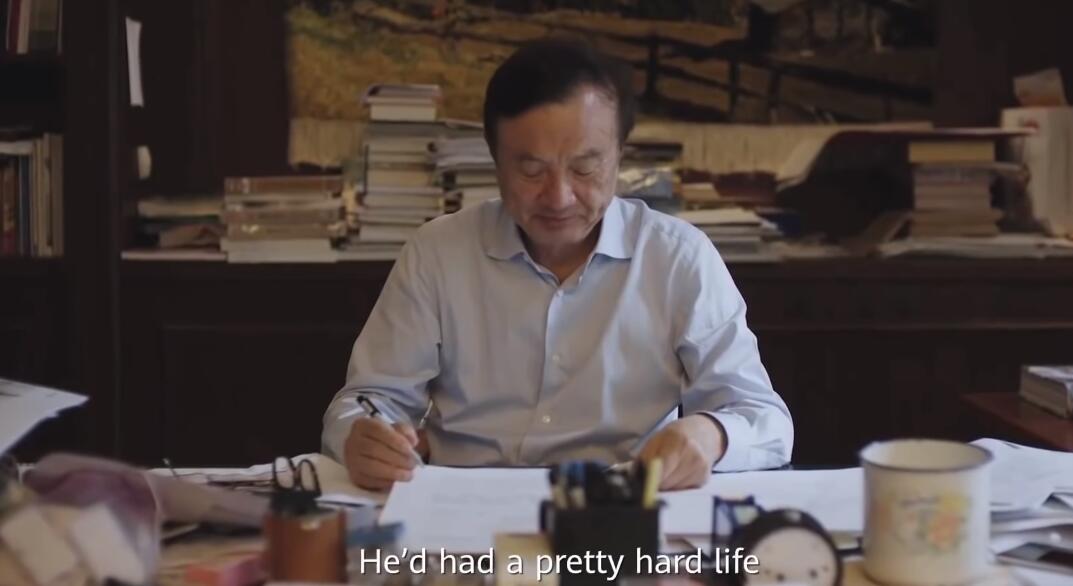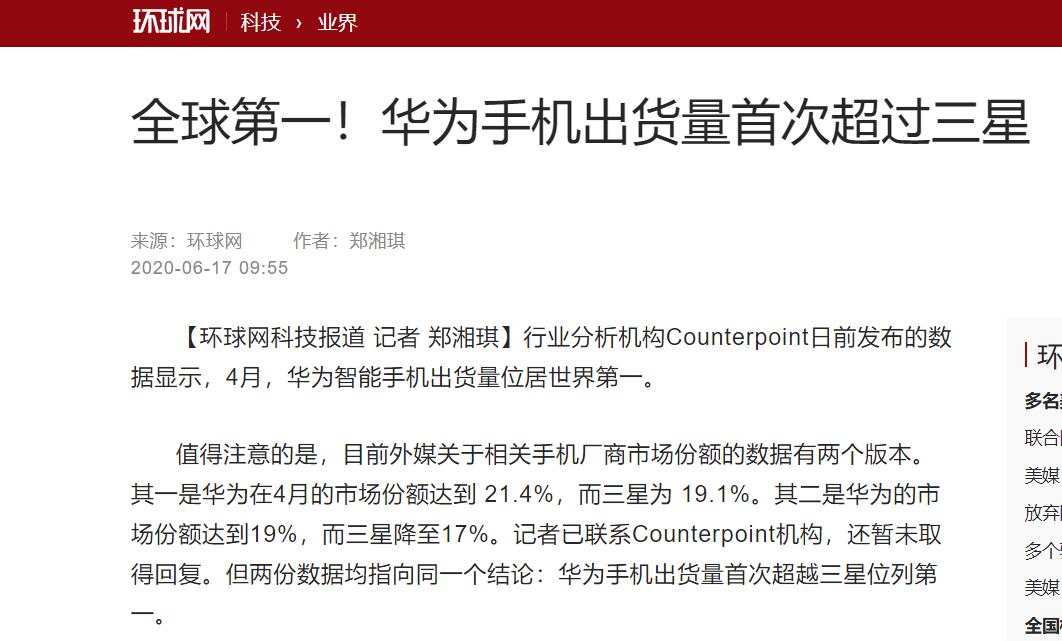 UnivocalBrake • 12 years ago
"Huawei is now the world's largest smartphone maker"
Trump: So anyway, I started banning - UP: 149
"华为现在是世界上最大的智能手机制造商"
特朗普:不管怎样,我开始禁止。
Ssimpel 01
The US will pay for a 5g network in Brazil but Trump said they'd only pay if they dont use Huawei for the networks. - UP: 4
美国将为巴西的5G建设付费,但特朗普表示,只有在不使用华为的情况下,他们才会付费。
Timi Akinlonu
Samsung will retake the lead sooner or later. - UP: 317
三星迟早会重新取得领先地位。
gaster Plays unbox
I hope - UP: 7
我希望吧
Johnny Wynn
Just Samsung fanboys justifying why Samsung was beaten by Hauwei. I remember them saying Hauwei will never beat Samsung in first spot People are just salty that a Chinese company overtook their beloved Samsung.
Look at the amount of fanboys coming up nonsense excuses with weird theories - UP: 2
三星的粉丝们在为三星为什么会被华为击败而辩护。我记得他们说过华为永远不会击败三星夺得第一名。
一家中国公司超越了他们心爱的三星,这让他们很不高兴。
看看有多少粉丝用奇怪的理论编造出无意义的借口。
Johnny Wynn
In Denial as usual, when buying Android phones, there's no better ones than OnePlus and Google, I can't stand Samsung's OneUI. - UP: 4
和往常一样,在购买安卓手机时,没有比一加和谷歌更好的手机了,我无法忍受三星的 OneUI。
Red Dragon
Well done Huawei. You might go back to 2nd in a few months though. - UP: 111
干得好,华为。不过几个月后你可能会回到第二名。
EeEn Loh
But this is a big step for them this is the first time they surpassed them - UP: 5
但这对他们来说是一个很大的进步,这是他们第一次超越三星。
Johnny Wynn
Funny enough, Huawei said that'll overtake Samsung in a few years, this was like 2-3 years ago - UP: 3
有意思的是,华为说它将在几年内超过三星,这好像是2-3年前的事。
Jakin Lee
@Johnny Wynn its because of lock down samsung didnt sell well - UP: 9
因为封锁,三星卖得不好。
Lalboi Manlun
@Jakin Lee so samsung is the only company affected by the lockdown? - UP: 1
所以三星是唯一一家受封锁影响的公司?
EnkoreTech
that's impressive despite what's going on with them. - UP: 62
不管他们发生了什么,这都是让人印象深刻的。
Jakin Lee
cuz samsung phones didnt sell cuz of lock down in the us so it pretty much doesnt even count - UP: 3
三星手机在美国卖不出去,因为美国封锁了,所以这根本不算。
Zem Jo
@Jakin Lee lol.. Better than Huawei banned issue but still Huawei overtake spot no. 1 for now. Imagine if there is no banned issue they would be no. 1 by last few months ago already. But no worries Samsung will overtake again. The ban is still there.. - UP: 1
哈哈,至少比华为被禁更好,但目前华为仍然超过了第一名。想象一下,如果没有被禁的问题,在几个月前他们已经是第一名了。但是不用担心,三星会再次超越的。禁令仍然存在...
Jakin Lee
@Zem Jo but samsung is still on top in my opinion - UP: 3
但是三星在我看来仍然是最好的。
BOURNE15ive
It's not really.... You just heard him inform you Samsung couldn't sell their products in their key markets for a month....
It's not hard to beat your opponent in a race if his legs have been cut off... - UP: 0
这不是真的.. 你刚刚有听到他跟你说的吧,三星他们的产品在他们的主要市场一个月内卖不出去...
如果你的对手都被截肢了,要在比赛中打败他并不难...
T_links
Huawei being number One is just a fantasy and won't last. - UP: 18
华为成为第一只是幻想,不会持久的。
EeEn Loh
I think you guys really downplayed the fact that without the us ban huawei could have actually been number 1 - UP: 14
我认为你们真的忽略了一个事实:如果没有美国的禁令,华为实际上可能排名第一了。
moon disaster
Imagine 70 percent of chinese people buy hawei. Do u think its still impressive? Wait untill india has smartphone company. - UP: 1
想象一下,70%的中国人会买华为。你认为这仍然印象深刻吗?等印度有智能手机公司的时候。
Aakash Sahani
@moon disaster *laughs in Indian
BRUH, our government pleaded us to not make those jokes again. - UP: 0
印度 哈哈
兄弟,我们的政府恳求我们不要再开那些玩笑了。
kits GMD
I'm shocked samsung lost top 1 - UP: 8
我很惊讶三星跌落了第一名。
Somali flame
Would be interesting to see what kinda of numbers a Huawei flagship could do without any ban in place. - UP: 34
看看华为旗舰手机在没有任何禁令的情况下,能拿出什么样的成绩,会很有意思的。
Craven
If there werent trump, huawei would be no. 1 even back in 2019 - UP: 7
如果没有特朗普,华为在2019年就已经第一了。
EeEn Loh
Without the us ban they would have been number 1 sooner - UP: 3
如果没有美国的禁令,他们可能会更早就成为世界第一。
EeEn Loh
@Craven are you out of your mind they ban huawei working with usa company or any company that uses USA tech - UP: 0
你疯了吗?他们是禁止华为与美国公司或任何使用美国技术的公司合作。
Craven
@EeEn Loh trump banned them in the mid of 2019, if he didnt, mate 30 would have been global realiise, and they would outsell samsung - UP: 1
特朗普在2019年中期禁止了它们,如果他没有这么做,华为 mate 30 就会成为全球性的产品,而且它们的销量会超过三星。
Layout108
Wait, so if samsung didnt suffer from lockdown they would still be #1? - UP: 14
等等,所以如果三星没有受到封锁的困扰,他们还会是第一名吗?
ButterMc. Muffin
They say they will be no. 1, but they never say how long. - UP: 1
他们说他们会成为世界第一,但是他们从来没有说要多久。
David N.
I thought y'all mocked them. Who got the last laugh now??
Since Samsung don't want to listen to us and they're getting lazy. - UP: 2
我以为你们都嘲笑他们,现在谁笑到了最后?
因为三星不想听我们的,他们变得越来越懒了。
TheTravel Guy
It don't matter if you win by an inch or a mile. Winning's winning. - UP: 10
不管你是赢了一英寸还是一英里,胜利就是胜利。
Sarthak Jain
Ofcourse because coronavirus has ended in china chinese companies will grow - UP: 1
当然会这样,因为中国的新冠病毒已经消失了,中国公司将会成长。
jkeener1988
As long as it isn't Crapple, I'm good! - UP: 42
只要不是苹果,我都能接受!
Jeevan Kachana
YOU PEOPLE ARE DUMB. I would pick apple over Huawei anyday.... - UP: 3
你们这些人真蠢,我宁愿选苹果也不选华为...
Jeff 'the gamer' Boy
Huawei and Samsung are miles better than rotten apple. Only thing apple does right are iPads. - UP: 1
华为和三星比烂苹果好多了,苹果唯一做对的就是iPad。
VusKorE
Let's see what the tally looks like in December - UP: 1
让我们看看十二月份的统计结果如何。
EnkoreTech
Nooooo!!! this can't be happening, it's gotta be a genjutsu😱 - UP: 1
不! ! ! 这不可能,这一定是幻觉
mugyou_0316
Thats what samsung gets for charging $1600 for a phone - UP: 3
这就是三星手机1600美元的价格带来的结果。
F-14 Tomcat Tobar
WHAT?!?! IT ACTUALLY HAPPENED?! - UP: 1
什么!?真的发生了!?
arsham ghafari
Samsung imagination : more the price , more customers to buy. - UP: 0
三星的想法:更高的价格,更多的客户购买。
Philip Penkov
LOL! They did it. I can't believe. - UP: 0
哈哈!他们做到了。我真不敢相信。
My Fake Guugl Account
I opened my Samsung Music app today, only to find a freaking ad right over the whole UI. And then they keep popping up everywhere. I'm done with Samsung. Their expensive phones are nothing but ad machines now. Dialer, Music, Pay, Health, Weather...all have ads. Word is they're coming to the entire system UI as well.
Huawei is going to trounce them, even without Gapps. - UP: 1
我今天打开了我的三星音乐应用程序,却在整个用户界面上发现了一条该死的广告。然后它们不断出现在各个地方。我受够三星了。他们昂贵的手机现在就是个广告机器。拨号界面、音乐、支付、健康、天气等等... 都有广告。据说它们将进入整个系统的用户界面。
即使没有GAPPS,华为也会击败他们。
Samuel Adekola
THIS MUST BE A DREAM 😖😖 - UP: 1
这一定是个梦
grcfalcon
"Noone thought they would ever do". That's not true. Apparently Huawei analysts believed that and they said that they would become No.1. - UP: 0
"没人想到他们能做到。"并不是这样的,显然,华为的分析师相信这点,他们说,他们将成为第一。
Jin H
The amount of jealousy in this comments. Y'all can't take in others being successful. Smh - UP: 0
在这个评论区,有很多嫉妒的评论。你们不能接受别人的成功。这不好。
Jovan
It's not that they don't like Huawei, they don't like China. Most people have prejudices and biased against china and Chinese products. The same old stereotypes that Chinese products are cheap and inferior, or that they're all made in sweatshops with little kids putting screws in everyday.
Or maybe they think that the Chinese government is spying on them through their phones and going to harvest their organs.
Whatever it is, it's not Huawei specifically but the association between Huawei and China. I bet you if Huawei was Taiwanese no one would give a shit it's just the fact that it's 2020 and hating china is a trend - UP: 2
这并不是说他们不喜欢华为,他们是不喜欢中国。大多数人对中国和中国产品有偏见。同样的陈词滥调,说中国的产品又便宜又劣质,或者说它们都是血汗工厂生产的,每天都有小孩子在里面拧螺丝。
或者他们认为中国正在通过他们的手机监视他们,并准备摘取他们的器官。
不管是什么,都不是专门针对华为,而是华为和中国之间的联系。我敢打赌,如果华为是台湾公司,没有人会在乎,只是因为现在是2020年,仇视中国是一种趋势。
EverythingSamsungTech
Yall im freaking out im a die hard Samsung Fan boy I feel like crying. I'm so mad right now. - UP: 3
我是三星的铁杆粉丝,我真想哭。 我现在很生气。
Johnny Wynn
Crying over a company. Wow - UP: 2
为一家公司哭泣。哇。
TechTalkTV
Samsung will be back to the top spot in May and forward. - UP: 0
三星将在五月份重返榜首。
NS_prod.
Not long lasting I'd say 😉 - UP: 1
我得说不会持续很久
Aves
Samsung was unable to sell s20 series in India because:
1. The whole s20 series were overpriced.
2. Xiaomi, Realme, OnePlus. - UP: 0
三星无法在印度销售S20系列手机,原因是:
1. 所有20系列定价过高。
2. 小米,真我,一加。
Chiranshu Pal
We knew that was coming. - UP: 1
我们知道这是迟早的事。
raveed Israel
Still Samsung has to step up it's game. - UP: 1
三星仍然需要提升自己的竞争力。
Magic Lion Mike
Good they need to compete so Samsung can shine better later. Competition is good, leads to companies pushing out better products. - UP: 1
很好,他们需要竞争,这样三星以后才能表现得更好。竞争是好事,会让公司推出更好的产品。
Arya Patel
It's just a matter of a few months and then Huawei will have to go back to the 2nd spot - UP: 1
只需要几个月的时间,华为将不得不回到第二名的位置。
Gadgets Arise
Now Google has to return to Huawei Devices. - UP: 1
现在,谷歌不得不回到华为设备上了。
Hafid
Samsung jacked up the prices too high,that's one of the reasons i think. - UP: 0
三星把价格抬得太高了,这是我认为的原因之一。
THOMAS THE TANK ENGINE
Now imagine if the ban wasn't in effect - UP: 0
现在想象一下,如果禁令没有生效的话。
ಠ_ ಠ
No Google services but somehow they are winning - UP: 1
虽然没有谷歌服务,但是不知怎么的,他们正在获胜。
Why are you reading that?
As a SAMSUNG fan boy I'm happy for them 😅 - UP: 0
作为一个三星的粉丝,我为他们感到高兴
Andrei Botas
Huawei is my favourite smartphone maker
I am sad they got banned😢
I am so happy they beat Samsung✔👏👍 - UP: 0
华为是我最喜欢的智能手机制造商。
我很伤心他们被禁了。
我很高兴他们打败了三星。
Master Yoda
Most flagships this year are overpriced over last year
The base variant of the S series should be cheaper than it is now for better sales - UP: 0
今年大多数旗舰手机的价格都高于去年。
S系列应该比现在更便宜,以获得更好的销售。
Goku Ultra Instinct
Congrats Huawei. Although with GMS Huawei still amazing. I can see Huawei did 10000% promote their phone everywhere. SAMSUNG need to get back in track. Please Samsung be more creative with color for phone. S20 variant so lame. The sale drop not because pandemic but s20 varient itself go issues. Exynos version and lame color option. - UP: 0
恭喜华为。尽管被禁止了谷歌服务,华为依然令人惊叹。我可以看到华为在全球范围内做了大量的推广。三星需要重回正轨。 三星请在手机色彩上更有创意些。S20太差劲了。销售下降不是因为疫情,而是因为S20本身出了问题。Exynos版本和蹩脚的颜色选项。
tommy lim
Go Huawei!🤣 - UP: 1
加油 华为!
Tain
Samsung will retake the lead.......❤️ - UP: 0
三星将重新夺回宝座...
Shansai M
Samsung will still overtake Huawei sooner or later - UP: 0
三星迟早还是会超过华为。
Rahat Hussain
Your looking so sad 😭 because Huawei is successful 🙄😅😅 - UP: 1
你看起来很伤心,因为华为很成功
Walden
That's amazing Huawei manage to take top spot despite a whole country (USA) trying to take it down and ban it. - UP: 0
令人惊讶的是,尽管整个国家(美国)都试图取缔和禁止华为,它还是成功地占据了榜首。
Dom Cobb
What?! Huawei 1st? Huawei sales would've been even higher if the ban didn't happen - UP: 17
什么? ! 华为第一? 如果没有禁令的话,华为的销量会更高
M A
Not realy, they wouldnt beat samsung if there were no ban. - UP: 5
并不,如果没有禁令,他们不会打败三星。
Bragle John
Samsung sales decline because those big markets where samsung selling very well are still on lockdown yet china is on recovery where is Huawei selling well too. - UP: 6
三星销量下降,是因为那些三星卖得很好的大市场仍然处于封锁状态,而中国市场正在复苏,华为的销量也在复苏。
Samuel Achaepong
they were already close despite last year's ban and the ban also got worser - UP: 0
尽管去年的禁令,他们已经很接近了,而且禁令也变得更糟。
Cedric De Asis
Apple finna be rocket rushing back at the top in November - UP: 0
苹果公司将在11月份重返榜首
Haki D Innocent
I'm fine with Huawei, but as long as it is NOT apple. - UP: 13
我对华为没意见,只要不是苹果就行。
K-CED
When 2021 comes, Samsung will return to their number one spot. - UP: 0
当2021年的时候,三星将回到他们的第一位置。
Mr Rover
I wish after that Samsung will try to fix their mistakes in few months.
Huawei's competition is useful now.
So we will see after some months samsung will try to take it over again. - UP: 0
我希望在这之后,三星能够在几个月里改正他们的错误。
华为的竞争,现在很有帮助。
因此,我们将看到几个月后,三星将努力再次接管第一的位置。
Jovan
when Huawei is leading theyre definitely lying there's no way they can be number one I mean come on they're Chinese elite- UP: 0
当华为处于领先地位的时候,他们就绝对是在撒谎,他们不可能成为第一的,我的意思是,拜托,他们是中国的精英。
Smit__K_
Dear Samsung being a fan boy I just want to say please stop fooling us
Day by day launching more powerful phones and increasing price is not going to make you no.1 smartphone maker. People here in india think about product they buy and what value they provide. What do you think Samsung...Are people going to spend 1400$ and expect only 2 major updates? Provide more software updates if you really think about that no.1 spot👍
Also that Exynos chip stop fooling us.. I don't know i just started hating samsung because of this and i think its time to switch to iPhone. Although they are really expensive here in india almost like 1500$ but at least I know that I don't have to upgrade soon :) - UP: 0
亲爱的三星,作为一个粉丝,我只想说,请不要再把我们当猴耍了。
日复一日地推出更强大的手机和不断上涨的价格,不会让你成为世界第一的智能手机制造商。印度人考虑的是他们购买的产品所提供的价值。你觉得三星怎么样... 人们会花1400美元只期待两个主要更新吗?如果你想夺回第一的位置,就提供更多的软件更新。
还有那个 Exynos 芯片,不要再愚弄我们了。我不知道,我开始讨厌三星就是因为这个,我想是时候换成 iPhone 了。 虽然它们在印度真的很贵,差不多要1500美元,但至少我知道我不必很快升级:)
Sam Y
I am still an Apple person all the way. The Apple App Store has way more apps than the Huawei App Store. - UP: 0
我一直都是一个苹果迷。 苹果应用商店比华为应用商店有更多的应用程序。
Usman Tariq
Imagine if Huawei was never banned - UP: 0
想象一下,如果华为从未被禁止
Nate Reid
great job Huawei - UP: 0
干得好,华为
Niamul Rayian
in a way I'm happy....samsung should price their flagship phones more sensibly!!! apple should slap them hard with iphone 12... - UP: 0
在某种程度上我很高兴... 三星应该更明智地定价他们的旗舰手机! ! ! 苹果应该用 iphone 12狠狠地打击他们....
k a rt ik Rajeev
If ban is removed they will automatically rise to top - UP: 0
如果取消禁令,他们将自动升至榜首。
Dan Gun
Technically Huawei did not beat Samsung, it only beat Samsung because of COVID-19. - UP: 1
从技术上讲,华为并没有击败三星,它只是因为新冠疫情而击败了三星。
vishnu as
Good lesson for Samsung - UP: 1
这对三星来说是一个很好的教训
Dustin Townsend
NOOOOOOO, THATS IMPOSSIBLE!!!! - UP: 0
不不不,那是不可能的!!
Sean Ashton Jones
SERIOUSLY LOL! I'M A HUAWEI USER - UP: 0
说真的,哈哈,我是华为的用户
Liam Buthane
I am so happy - UP: 0
我太高兴了
Persian Prince
We love you Huawei - UP: 0
我们爱你,华为
Mohamed Aasim 9A
Huawei it's good you should be the top always. - UP: 0
华为很好,你们应该永远是第一的。
MASTERF1N SG
I think it's impressive that Huawei managed to bit Samsung i know most of Huawei smartphone were sell in China but it doesn't matter you gotta keep in mind that the us banned is way too much for any companies to survive yet Huawei managed to do it and bit Samsung
i mean look the us banned not just android but anything and everything possible to work with Huawei
Im not a big fan of Huawei (or even Samsung now)
i don't even use Huawei smartphone, my daily driver is an oppo reno but i think it's not fair for the us to do this to companies like Huawei while others are competing freely without the us interruptions
So the fact that Huawei still managed to survive and bit Samsung is more than impressive, it's seems like the us is failed to took out Huawei
and maybe that's a good thing for everyone - UP: 0
我认为华为能够击败三星很让人印象深刻,我知道华为的大部分智能手机都是在中国销售的,但是你要记住,美国的禁令对任何公司来说都太过分了,而华为成功地击败了三星。
我的意思是,美国不仅禁止安卓,还禁止任何与华为合作的东西。
我不是华为的粉丝(甚至也不是三星的粉丝)
我甚至不使用华为的智能手机,我日常使用的手机是 oppo reno,但我认为这很不公平,美国对像华为这样的公司做这样的事情,而其他人自由竞争,没有美国的干扰。
所以,华为仍然生存下来了,并且咬了三星一口,这样的事实不仅让人印象深刻,似乎也说明美国没能打败华为,
也许这对每个人来说都是好事。
Jeed X
Always knew huawei will - UP: 1
我一直知道华为会第一的。
mulle bulle
Samsung is gonna overtake the number 1 spot - UP: 2
三星将会取代第一的位置。
BillyMiner49er
I will never buy a Huawai. EVER - UP: 0
我永远不会买华为的,永远不会。
OGFlat-Top
I really wanted to buy a Huawei smartphone this year - UP: 0
今年我真的很想买一部华为智能的手机
Amponsah Kelvin
Samsung will bounce back again, it won't last for long - UP: 0
三星会再次回归,不会太久的
Daniel Frank
If I wanted an overpriced smartphone, I would buy an iPhone. Samsung really overpriced their phones this time. Coupled with a horrible processor sold in global markets, you have a recipe for disaster. - UP: 0
如果我想要一部价格过高的智能手机,我会买一部 iPhone。 三星这次真的把他们的手机价格定得太高了。 再加上在全球市场上销售的糟糕处理器,你就有了一个灾难性失败的秘诀了。
Shibin Thomas
So what still they did it and is impressive - UP: 0
所以他们还是做到了,让我印象深刻
Waldi Kenway
Well, I don't really care about chinese phone - UP: 0
好吧,我对中国手机没什么兴趣。
U. look like a million dollars
I'm still confused on why Huawei is banned in the US - UP: 0
我仍然不明白为什么华为在美国被禁止。
Walden
To protect Apple's market shares. - UP: 0
为了保护苹果的市场份额。
payam firouzi
And Huawei is under sanctions! - UP: 0
而华为仍正在受到制裁!
Android PK
Love For Huawei From Pakistan - UP: 0
来自巴基斯坦对华为的热爱。
kashif khan
Not easy to defeat Samsung(King Of Smartphone) - UP: 0
要打败三星(智能手机之王)并不容易
Ahmed Asnadh
If there was no US ban.. This news will be an old news - UP: 0
如果没有美国的禁令... 这个消息将成为旧闻。
Marko Ruzicic
😭😭😭 Poor Samsung. Go-ahead Huawei kill them all - UP: 0
可怜的三星,去吧,华为干掉他们
ilyn Payne
How are they selling phones without android OS? - UP: 0
他们是怎么销售没有安卓操作系统的手机?
Rigel
Mobile market is so unpredictable and very competitive. Decade ago I thought Nokia is invincible now they went under in less than 5 years after the big shift. - UP: 0
移动市场非常不可预测和竞争激烈。十年前我认为诺基亚是不可战胜的,现在他们在大转变后,不到5年就倒闭了。
SirDanPH
Donald Trump: This is IMPOSSIBLE! - UP: 1
唐纳德 · 特朗普:这不可能!
GamingNorm
Man he really hating on hauwei - UP: 0
他真的是很讨厌华为。
Aakash Basnet
Trump recently talked about Huawei, he said he will lift ban doing personal favor! - UP: 0
特朗普最近谈到了华为,他说他会为了做人情而解除禁令!
Austin se
Huawei overtakes Samsung as number one smartphone maker in the world market.
Apple : you gotta be kidding me - UP: 0
华为超越三星成为世界第一智能手机制造商。
苹果:你在开玩笑吧。
Nathaniel Doromal
What?!....i think this will not take long😅 - UP: 0
什么? ! ... 我想不会第一太久的
reinhard fox
if not for this trade wars..Huawei will be far ahead of Samsung and Apple.. - UP: 30
如果没有这场贸易战... 华为将远远领先于三星和苹果...
Stonewall Jackson
Not necessarily for Samsung. Samsung has tech that will blow your mind, but Money is more important at the moment to keep ahead of competition and added with Apple stealing *Every Android phone maker ideas and technology, Samsung just let them get the scraps. Huawei is now Apple phones competitor. Samsung is on another level but Apple iPhone will face and intercept another fatal blow from Huawei. At this point, I think Apple has realized that this phone tech world is not for them. - UP: 0
对三星来说未必如此。三星的技术会让你大吃一惊的,但是现在金钱对于保持竞争优势更为重要,而且苹果偷走了每一个安卓手机制造商的想法和技术,三星只是让他们得到了残羹剩饭。华为现在是苹果手机的竞争对手。三星是另一个层面,但苹果 iPhone 将面临来自华为的另一个致命打击。在这一点上,我认为苹果已经意识到这个手机技术世界并不适合他们。
Johnny Wynn
Stonewall Jackson oh shut up. Samsung is now the 2nd largest phone maker😂 - UP: 4
闭嘴,三星现在只是全球第二大手机制造商。
Florian Popescu
If Trump didn't ban Huawei, they would have beaten Samsung by the end of 2019, especially because of the global release of the mate 30 family. - UP: 1
如果特朗普不禁止华为,他们会在2019年底打败三星,特别是因为华为 mate 30 系列在全球的发布。
Bishal Dhar
China's unity is their strongest point. - UP: 0
中国的团结是他们的最强优点。
Jumill Peñamora
Well I don't care cause I always about doubt Huawei. Maybe they also cheat the sales ? - UP: 0
我不在乎,因为我总是怀疑华为。也许他们也在销售造假?
Ahmad Shaker
Huawei is like the student who celebrates getting a full mark in one exam- UP: 6
华为就像一个学生庆祝在一次考试中获得了满分。
Jovan
Huawei is a student who celebrates getting top grades in the entire cohort, nay the entire country.
This is something incredible, very few countries in the world can say they're number one - UP: 2
华为是一个庆祝在整个学校,甚至是整个国家获得最高分的学生。
这是一件让人难以置信的事情,世界上很少有国家能说他们是世界第一。
Mh Babu
I love huawei mobile phones - UP: 0
我喜欢华为手机
Ume Hyuga
2018 Huawei beat Apple in sales and then they got ban in US. I think if Huawei beat Samsung in sales, they will be got ban in South Korea. 😂😂😂 - UP: 0
2018年华为在销量上击败苹果,然后在美国被禁。 我认为如果华为在销售上击败三星,他们将在韩国也会被禁。
shanghaichica
It's a one off. It won't happen again. - UP: 0
这是一次性的,不会再发生了。
Alexander Samson
What a year! So many suprises. - UP: 0
多么美好的一年啊!这么多的惊奇事情。
1980 Hk
YES YES YES YES - UP: 0
太好了。
Zulkifli Ahmad
The problem with Samsung is their prices. Their prices are too high even with introductory models. - UP: 0
三星的问题在于它们的价格,它们的价格太高了,即使是入门级的也是如此。
best tech commercials
Samsung deserve this , because of some bad decisions of Samsung - UP: 0
这是三星自找的,因为三星做了一些错误的决定。
Swapnesh Daryani
I m a Huawei fan.. - UP: 0
我是华为的粉丝..
Dimitris Jk
Huawei should say thanks to covid 19 and world's lockdown for this not the customers - UP: 0
华为应该感谢新冠疫情和全世界的封锁,而不是客户。
the Ultra
Ooh myy goshhh this is not happening I am freaking out huawei should have not done it! - UP: 0
我的天啊,这不是真的,我吓到了,华为不应该这么做!
Ahmad Niaz
Samsung need to get back to number one - UP: 0
三星需要回到第一的位置
Nolanevator
HOW THE HELL IS THIS EVEN POSSIBLE?!?!?!?!?! - UP: 0
这怎么可能!?
Ron Josiah
It's short lived. By 2021 OnePlus will overtake them both! 😁 - UP: 0
这是短暂的,到2021年,一加将超过他们两个!
Anish Nattamai
I dont think Huawei sales went up, i think Samsung sales went down - UP: 0
我不认为是华为的销量上升了,我认为是三星的销量下降了
KSHITIZ PANDYA
Huawei lead is temporary, Samsung quality is permanent. I am a Samsung fanboy from India and I would love to see Huwaei getting completely banned or closed down in coming future. - UP: 0
华为的领先是暂时的,三星的质量是永久的。我是一个来自印度的三星粉丝,我希望看到华为在未来被完全禁止或封锁。
Super Cool
Samsung failed only because of their bad strategy.
In pursuit of defeating Samsung,Samsung Ignored Indian demand and India helped One plus to a level where Samsung Galaxy S series is now second choice for mid premium category. - UP: 0
三星的失败仅仅是因为他们糟糕的战略。
为了击败三星,三星忽视了印度的需求,印度帮助一加提升了地位,三星 Galaxy s 系列现在在印度是中高端产品的第二个选择。
MysteryGame Fanatic
Hooray for Huawei!!!!!! - UP: 0
华为万岁!!
Leonce Philanthro
Am a very big fan of Samsung smartphones but i really think they should work more and improve on the camera software not just increasing pixels only, otherwise Huawei isn't joking- UP: 1
我是三星智能手机的超级粉丝,但是我真的认为他们应该在摄像头软件上做更多的工作和改进,而不仅仅是增加像素,否则华为不是开玩笑的。
TheM275
Huawei is a non event to so many people - UP: 0
华为对很多人来说都是无关紧要的。
Jovan
Huawei phones here outrank Samsung and Apple phones and most people here look at it as a prestigious brand. In fact most of my friends own either a huawei or a oneplus - UP: 0
华为手机在中国的地位高于三星和苹果手机,大多数中国人认为华为是一个享有盛誉的品牌。事实上,我的大多数朋友要么有一部华为手机,要么有一部一加手机。
L L
To be honest, I don't think I would be the only one who would take Huawei over Samsung any day. - UP: 0
老实说,我不认为我是唯一一个会希望华为随时取代三星的人。
Niclas
This is disappointing for Samsung fan booiis - UP: 2
这让三星的粉丝们感到失望
Peter Murage
Number one smartphone maker is number one smartphone maker. The circumstances don't change a thing. - UP: 0
排名第一的智能手机制造商是就是排名第一的。环境不会改变什么。
Sudip Prasad Neupane
Chinese people trust Huawei so they buy their Smartphones. Increase in sales inside China not only because of patriotism but also because of their trust. - UP: 0
中国人信任华为,所以他们购买华为的智能手机。 中国国内的销售增加不仅是因为爱国主义,也是因为他们的信任。
Ruhul Amin
Samsung will be no 1 - UP: 0
三星将排名第一
SUSTAIN SHOTS TV
No Excuses
I Beat You - UP: 0
没有什么借口。
我就是打败了你。
Sagittarius A*
LIES!! - UP: 0
谎言!!
Saul Ortiz
Samsung need to step up there game. If they keep using this apple method people will go elsewhere to get there phones. - UP: 0
三星需要加快步伐。 如果他们继续使用苹果的方法,人们会去别的地方买手机。
Jaspreet Singh Malhi
No one can beat samsung. - UP: 0
没有人能打败三星。
JøhN HaZeLy
IT SO STRANGE & UNBELIEVABLE .... HUAWEI GOT BAN & CAN'T USE ANY GOOGLE SERVICES AND STILL MANAGE TO OVERTAKE SAMSUNG ....
BTW , HUAWEI IS ONE OF MY MOST FAVOURITE SMARTPHONE MANUFACTURERS , IF THEY HAD GOOGLE SERVICES IN THEIR DEVICES , I WOULD DEFINITELY CHOOSE HUAWEI , MORE THAN SAMSUNG , MORE THAN APPLE !!
#PowerOfHuawei - UP: 1
这很奇怪也让人难以置信.. 华为被禁止使用任何谷歌服务,但仍然超越了三星。
顺便说一句,华为是我最喜欢的智能手机制造商之一,如果他们的设备中有谷歌服务,相比三星,比苹果,我一定会选择华为的!
#华为力量
Tornadoes Gaming234
I am Pretty sure that Samsung will probably see this video be like
=Samsung= ...? How you beat me
=Huawei= I am the Worlds biggest Smartphone maker
=Samsung= I will come back to the No.1 - UP: 0
我很确定三星看到这个视频可能会是这样的,
三星:... ? 你怎么打败我的?
华为:我是世界上最大的智能手机制造商了。
三星:我会回来的,回到第一的位置。
AK [KAZMI]
Man everyone knew it was coming. Huawei is still hot in Pakistan but don't know about other countries - UP: 0
每个人都知道这情况会来的。华为在巴基斯坦仍然是热门,但我不知道其他国家的情况。
rezok gamer
I think samsung needs to look at this as serious threat because one mistake can take the whole #1 place down so instead of bringing crazy prices focus on what people want and bring a more easy to understand lineup across all the markets and focus very hard on the software its good to innovate and being the first- UP: 0
我认为三星需要把这看作是一个严重的威胁,因为一个错误可以把第一名的位置拉下来,所以与其用疯狂的价格,还不如专注于人们想要的东西上,带来更容易理解的产品线,并更努力关注软件的创新,成为第一。
Azman Hasanuddin
Nice Huawei. Make Samsung go crazy with their high prices smartphone with worst specification. Samsung never realize it yet. Your samsung - UP: 0
干得好华为。让三星为他们高价低质的智能手机发疯。三星从未意识到这点。你这蠢货三星。
samrat
in international markets nobody buy huawei phones it was a lockdown joke i think - UP: 0
疫情封锁期间,在国际市场上,没有人会买华为手机,我认为这是个笑话。
Maurice Nintendo Switch
No I heard from many people in the comment section of Samsung that they don't buy their phones in lockdown but on Huawei's comment section the people support Huawei also in lockdown - UP: 0
不,我在三星的评论区看到很多人说他们不会在封锁期购买三星的手机,但在华为的评论区,人们在封锁期也支持华为。
Jovan
This entire comment section is like a little kid in denial - UP: 0
整个评论区就像一个拒绝接受事实的小孩。
HanimeTv
This is why America don't want Hawaii - UP: 0
这就是为什么美国不想要华为。
Jovan Tan
I hope so too. This is forcing Huawei to adapt and become better than ever. Huawei is becoming completely self reliant and with this push, China as a whole will become more dominant. - UP: 1
我也希望如此。这会迫使华为进行调整,比以往任何时候都做得更好。华为正在变得完全自力更生,随着这一推动,中国作为一个整体将变得更加主导。
DEADSEC_ XZ1
trump be sweating.... - UP: 0
特朗普在冒冷汗了...
Mwelwa Nguni
this is a long time coming and Samsung deserve to be number 3. With their shitty customer service, nonexistent warranty and inflated prices Apple will soon surpass them too. And remember Huawei is not even in the US yet. If that changes in the future then it will be the last nail in Samsungs coffin. - UP: 1
这是一个漫长的过程,三星理应是第三名。凭借其糟糕的客户服务、不存在的售后保修和夸张的价格,苹果很快也会超过他们的。记住,华为甚至还没有进入美国市场。如果未来情况有所改变,那么这将是三星棺材板上的最后一颗钉子。
Abhishek Anand
Shocking. It is because of Covid since China is almost Covid free and Huawei's main market is China. Samsung is far better and will take his position back - UP: 0
令人震惊。这是因为中国几乎没有疫情了,而华为的主要市场是中国。三星要好得多,它将会重新夺回第一的位置。
AriYaN AJ SHAFIII
samsung is just too much overrated
their stupid exynos harsh ui performance
just sucks most people doesnt even notice it
they just follow the samsung number 1 trend nd buys samsung
huawei deserves to be the number 1
cz they are the best
screw the us ban
huawei is still evolving - UP: 0
三星实在是被高估了。
他们愚蠢的exynos和丑陋的UI界面。
糟透了,大多数人都没注意到。
他们只是跟随三星第一的趋势,买了三星手机。
华为应该是第一名,他们是最棒的。
去他X的美国禁令,华为还在进化中。
A R Talukder
huawei will win - UP: 0
华为会赢的
Anurag Rawat
After all things Huawei is going through is like hell and sill they are trying to do their best that's what I love about them, another thing is Samsung sales are dependent more upon other regions than south korea this is where Huawei have a edge, in simple words Huawei have a population of 1.4 billion people backing them from China alone that's what Samsung don't have, if everyone outside china ditch Huawei it can still beat samsung.......and in opinion it will sooner or later.. - UP: 0
在华为所经历的一切就像地狱一样,但他们仍努力做到最好,这就是我喜欢他们的地方,另一件事是三星的销售更多地依赖于其他地区,而不是在韩国。这就是华为的优势所在,简单的说,华为拥有14亿人口,单单从中国支持他们来看,这是三星所没有的。如果中国以外的所有人都不使用华为,他们仍然可以打败三星... 依我看,这迟早会发生的。
Aditya W
no one can beat sumsung... other brands are cheap and indians dont gonna buy Chinese smartphones anymore - UP: 0
没有人能打败三星... 其他品牌都很廉价,印度人不会再购买中国的智能手机了。
Niaz Morshed
Your theory is jst only your assumption.The reason why they beat samsung is definitely not as u say.Pricing a damn thing over $1K is a major reason of their doom in the market bruh - UP: 1
你的理论只是你的假设。他们打败三星的原因绝对不是你所说的那样。一个破玩意儿定价超过1000美元,是它们在市场上失败的一个主要原因。
Grey Wolf
I have been a Samsung user for a very very long time. When I look at the comments; however, this just reminds me of the fight that has been going on between Samsung supporters and stupid Apple fanbois. This time the roles are just reversed and Samsung supporters are in the seats of stupid fanbois. I don't know your motivation for throwing sht at Huawei. Maybe national conflicts or you just hate Chinese. I have no idea. Whether you like it or not, it doesn't change the fact that Huawei achieved a very difficult task despite systematic discrimination. Stop fanboyism and appreciate an achievement without bias for once. I am being honest, their p40 pro is better than S20+ in many fields. - UP: 1
我已经使用三星很长时间了。然而,当我看到这些评论的时候,这让我想起了三星的支持者和苹果脑残粉之间一直在进行的口水战。这一次,角色刚好颠倒过来了,三星的支持者变成了脑残粉。我不知道你们为什么要诋毁华为。也许是国家冲突,或者你只是讨厌中国人。我不知道。但不管你喜欢与否,这并不能改变这样一个事实:尽管存在系统性的歧视,华为还是完成了一项非常困难的任务。停止狂热吧,不带偏见地欣赏这个成就。说实话,他们的 P40 pro 在很多方面都比S20+要好。
Maurice Nintendo Switch
But P40 has no Google services - UP: 0
但是 P40 没有谷歌服务。
Grey Wolf
Having no Google services does not make the design better or worse. They are now forming their own ecosystem. If I could use my shopping and bank apps with Huawei, I would really go for P40 plus. Screw Google services, I dont like being tracked and data-milked by Google anyway. - UP: 0
没有谷歌服务并不会让设计变得更好或更糟。它们现在正在形成自己的生态系统。如果我可以在华为使用我的购物和银行应用程序,我真的会选择P40+。 去他X的谷歌服务吧,我不喜欢被谷歌追踪和榨取数据。
Wasim Ahmed
Samsung is getting worst day by day - UP: 0
三星正变得越来越糟糕。
Albin Mathew
Nokia's successor is Samsung, and now Samsung's successor will be Huawei. The next big thing - UP: 3
诺基亚的继任者是三星,现在三星的继任者将是华为。
Elie Saba
Lol that was expected tho
Well samsung has been shit lately so they deserve it.
it think it's over for samsung regarding the #1 spot.
Congrats huawei. even with the ban they took samsung down. - UP: 0
哈哈,这是意料之中的
三星最近很糟糕,所以他们自食其果。
我认为三星第一的位置已经结束了。
恭喜华为,即使有禁令,他们还是拿下了三星。
lemuel padio
Not surprised. Samsung doesn't have enough innovation compares to Huawei right now. - UP: 3
这并不奇怪。与华为相比,三星目前还没有足够的创新能力。
Anime Hub
They didn't sell only in China, in other developing countries too. I'm also a fan of apple and Samsung before but there isn't new technology for apple with very high price while Samsung provided lots of new technology but the design isn't beautiful. For Huawei, it has both new technology and beautiful design. And we never used google service on a smart phone so it's not a big deals. - UP: 0
华为不仅在中国销售,在其他发展中国家也是如此。 我以前也是苹果和三星的粉丝,但是苹果没有与高价相应的新技术,而三星提供了很多新技术,但是设计并不漂亮。而华为,它既有新技术,又有漂亮的设计。我们从来没有在智能手机上用过谷歌服务,所以这不是什么大事。
Nash Izumrud
Press F to pay respects for Samsung. - UP: 0
按下F键向三星致敬。
Jessie Jake E. Becera
Na i think huawei will still be no. 1 because samsung sucks... i mean look at their specs... always lied... like their samsung s20 ultra 5g... but it doesnt have 5g set up at all... even my samsung a71... their processor suc, really sucks for a almost 500 dollar phone the performance sucks and i will never buy a samsung phone again... ever... - UP: 0
我认为华为仍然会是第一,因为三星糟透了,我是说看看他们的规格... 总是撒谎,就像他们的三星 s20 ultra 5g... 但它根本没有5G的配置... 甚至我的三星 a71... 他们的处理器糟透了,对于一部近500美元的手机的性能真的糟透了,我再也不会买三星手机了。