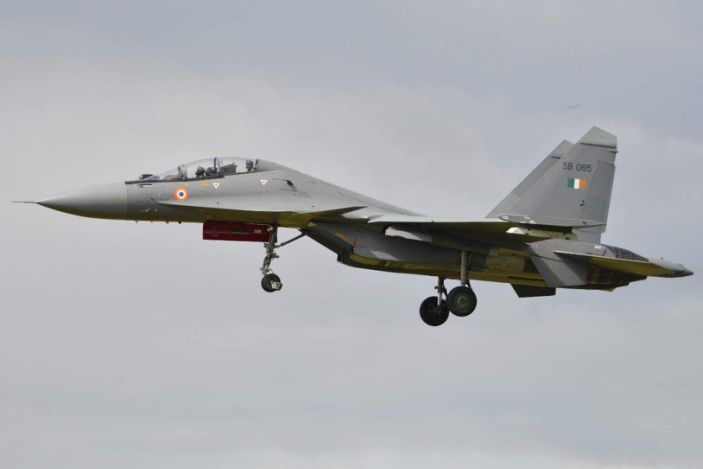 网友评论:
Fishpot
A country where all the high tech military equipment are imports. ↑:27 ↓:3
一个所有高科技军事装备都是进口的国家。
nunya
Unlike the Chinese who can only try to steal and copy, the Indians are smarter and developed planes on their own. ↑:1 ↓:9
不像中国人只会偷窃和复制,印度人更聪明,他们自己开发飞机。
Bryan
"...thanks for the wonderful tea." ↑:15 ↓:4
"...谢谢你们可口的茶"
Whatever
Lol sure ... How is that down and captured Indian pilot coming along in his psychological recovery? ↑:69 ↓:21
哈哈,当然... 那个被抓获的印度飞行员他的心理恢复情况怎么样了?
shiraz
He is craving for another cup of fantastic tea. ↑:5 ↓:7
他渴望再来一杯美味的茶。
Darren
Next captured pilots should spend time cleaning toilets and then sent home. Those Vedic people are not used to menial jobs and they try to show in Bollywood wars how they defeated Pakistan. ↑:22 ↓:6
下一个被俘的印度飞行员应该花时间清理厕所,然后再送回去。那些吠陀人不习惯卑微的工作,他们努力在宝莱坞的战争电影中展示他们如何击败巴基斯坦。
shiraz
Indian air force has quantity but no quality. Indian pilots are not trained and battle hardy like Chinese and Pakistan air force. Pakistan shot down two of their planes last February. One of their plane was captured by Pakistan in 1965 war which is sitting as a trophy in Pakistan air force museum. ↑:20 ↓:6
印度空军有数量,但没有质量。 印度飞行员没有像中国和巴基斯坦空军那样训练有素,作战能力强。去年二月,巴基斯坦击落了两架飞机。他们的一架飞机还在1965年的战争中被巴基斯坦缴获,现在作为战利品陈列在巴基斯坦空军博物馆。
Creed
Instead of spending money on AH-64D Apache, perhaps they should used their money in installing public restrooms all over India. ↑:81 ↓:25
与其把钱花在AH-64D阿帕奇上,也许他们应该把钱花在在全印度安装公共厕所上。
Hawks fan
They actually do practically give away toilets by subsidy, to encourage people to build bathrooms in their homes, having said that I know you were just being a sarcastic racist anyway so... ↑:0 ↓:0
他们实际上是通过补贴来提供厕所,鼓励人们在自己家里建厕所,我知道你只是一个讽刺的种族主义者,所以...
nunya
India never started any wars. We are owed $47 trillion by the UK and in my opinion should launch a full scale nuclear strike to get back what is owed. ↑:1 ↓:3
印度从未发动过任何战争。 英国欠我们47万亿美元,我认为应该发动全面的核打击来收回欠款。
BR
Please build those toilets in ur country ↑:2 ↓:3
请在你们国家建那些厕所
His Highness
How much Indians paid you to write this article? ↑:20 ↓:0
印度人给你多少钱让你写这篇文章?
Zafar
First article read where the title has got no relevance with the detail given below. Indians have never proved to be brave Army. The latest combat of Pakistan and India in air has proved our superiority. India must go back to its democratic values if it ever has to survive as a national. The recent treatment by Modi will break the India it to pieces. ↑:34 ↓:10
首先,文章的标题与下面给出的内容没有任何关联。印度人从未证明自己是一支勇敢的军队。巴基斯坦和印度最近的空战证明了我们的优势。 如果印度想要作为一个国家生存下去,就必须回归到它的民主价值观。 莫迪最近的做法将把印度搞得支离破碎。
Yabba
Dont worry about India. India and Indians are REALLY VERY STRONG and united. Indian democratic systems are well in place and robust.
Indians can easily see through when folks like you try to divide them. But as i said, Indians are way UNITED and cohesive enough to not be distracted. Indias strength is unity in its amazing diversity, and its amazing people! ↑:1 ↓:0
别操心印度。印度和印度人是真正的强大和团结。 印度的民主制度非常健全。
当像你这样的人试图分裂他们时,印度人很容易看穿这些伎俩。 但是就像我说的,印度人团结和有凝聚力,不会被分心。印度的力量在于其让人惊异的多样性和让人惊异的人民团结!
Krishna
Pakistan will be a Chinese colony in 10-20 years. ↑:1 ↓:5
10-20年后,巴基斯坦将成为中国的殖民地。
Raman Kolluri
Just to clarify, all the wars India fought with Pakistan were won by India. In one of them, India made Gen. Niazi to surrender and brought Bangladesh, its independence. ↑:7 ↓:4
澄清一下,印度和巴基斯坦之间的所有战争都是印度获胜。 其中一次,印度迫使尼亚齐将军投降,并导致了孟加拉国的独立。
samyuktha
When will indian army get back land grabbed by China in 1962 ? ↑:46 ↓:16
印度军队什么时候才能收复1962年被中国占领的土地?
Modi
The simple answer is NEVER. India does not possess the guts or the wherewithall to force anything from the Chinese. Indians will get more than a bloody nose this time if they tried. But India is dumb enough to do it under the Nazi-like fascist government of BJP and Narendar Modi. ↑:0 ↓:0
答案很简单:永远不会。 印度不具备迫使中国采取任何行动的实力或必要手段。如果印度人尝试这么做的话,他们的下场将不仅仅是鼻子流血那么简单。但是在印度人民党和纳伦达尔 · 莫迪纳粹式的法西斯政府统治下,印度足够愚蠢到这么做。
Pina
Modi will take back every inch of our land from China by the end of this year. ↑:5 ↓:16
到今年年底,印度总理莫迪将从中国手中夺回我们的每一寸土地。
Zee
Indian Military, Its a Joke of the Millennium ... almost 900,000 Indian Military men couldn't control small Kashmir and talking about Pakistan and China ....lololol ↑:15 ↓:3
印度军队,千年笑话... 近90万印度军人无法控制小小的克什米尔地区,而在谈论巴基斯坦和中国... 哈哈哈
nunya
Lol Pakistan started and lost 4 wars. Your national identity is what comes up if you google image search " best toilet paper in the word". ↑:1 ↓:4
哈哈,巴基斯坦发动并输掉了4场战争。如果你在谷歌图片搜索中搜索"世界上最好的厕纸" ,你的国家身份就会出现。
Josh Shalom Oppenheimer
NO. India's best pilot Abhinandan was shot down and captured by Pakistan - with ease. ↑:62 ↓:28
并没有。印度最好的飞行员阿比南丹被击落,然后轻而易举地被巴基斯坦俘虏。
Pina
The tea is fantastic, thank you. ↑:9 ↓:2
这茶真好喝,谢谢。
amin
jobs and investors are moving away because of this productive war talk. ↑:8 ↓:2
由于这场富有成效的战争言论,就业机会和投资者正在撤离。
nunya
India won 4 wars against the Islamic hordes already. What you think doesn't matter my tiny baby girl ↑:4 ↓:6
印度已经赢得了4场对抗伊斯兰游牧民族的战争。 你怎么想并不重要,我的小宝贝
TheyTerkErrJerbs
LOL, this made my day. India is about as powerful as misfiring 2 stroke engine. ↑:25 ↓:13
哈哈,这让我高兴了一天。印度的实力就像熄火的二冲程发动机一样强大。
Bleak
They have a bunch of nukes. All 3 have nukes, and nobody is trying anybody ... because nukes are pretty damn powerful. ↑:4 ↓:1
他们有很多核武器。 这三个国家都有核武器,而且没有谁敢对谁尝试... 因为核武器非常强大。
Sam
The tea is fantastic ↑:11 ↓:3
这茶真好喝
khalid
India,s military might is just on paper may be in numbers VS pakistan.But Pakistan is more than able to give Insian war mongers befitted reply any time any wher.as for as China,there is no comparsion between 2. ↑:12 ↓:4
印度的军事实力可能只是纸上谈兵,可能只是数量上能和巴基斯坦对抗。但是巴基斯坦完全有能力在任何时候、任何地方对战争贩子进行适当的反击。至于中国,两者之间没有可比性。
Pal
Here we go again - another inciter article.. who is running this fake news business at 'The National Interest'?? ↑:28 ↓:4
又来了,另一篇煽动文章... 谁在"国家利益"经营这个假新闻业务?
ibrar
What a fake article lots popping up to support the Indian narrative.
Wrong India DOES not occupy a strategic location BUT Pakistan does.
India has not been a hub of trade but it was the Indus Valley Civilisation which is Pakistan. Agreed India has been a important place for resource be it gold, spice or labour resource and will continue to be so but as allocation it is Pakistan.
India buys all her weapons from abroad while China manufacturers their own as does Pakistan almost 50% of their defence equipment. ↑:6 ↓:2
许多虚假文章冒了出来,为了支持印度。
印度并没有占据一个战略位置,但巴基斯坦占据了。
印度不是贸易中心,但印度河流域文明在巴基斯坦。双方一致认为,无论是黄金、香料还是劳动力资源,印度一直都是一个重要的资源来源地,并将继续如此,但分配的是巴基斯坦。
印度从国外购买所有武器,而中国制造自己的武器,巴基斯坦制造了近50%的国防设备。
ibrar
Fake News from an Indian posting on Yahoo News.
Track the IP and you will find out it emanates from an Indian.
Poor sod picked up a Bollywood scri1pt and thought it was the reality and wrote a fake article on yahoo news.
Indians breed so there are more of them but 1 Pakistan is worth 100 Indians. ↑:1 ↓:0
雅虎新闻上的印度假新闻。
追踪这个IP地址,你会发现这出自一个印度人之手。
可怜的家伙拿起宝莱坞的电影剧本,以为那是真的,然后在雅虎新闻上写了一篇假文章。
印度人不停繁殖,所以他们人数更多,但1个巴基斯坦抵得上100个印度人。
Dash Riprock
Give me Ten divisions and i will Conquer India. ↑:5 ↓:2
给我十个师,我就能征服印度。
nunya
Lmao your country has lost every single war you have fought in have you no shame? ↑:1 ↓:2
你的国家已经输掉了你们参加的每一场战争,难道你们不感到羞耻吗?
b
1971 war Indian Army captured 93000 Pakistani soldiers and recently Bakacot air strikes... India doesn't need to prove any more ↑:11 ↓:12
1971年的战争中,印度军队俘虏了93000名巴基斯坦士兵,还有最近巴卡科特的空袭... 印度不需要再证明什么了
MJ
India will buy planes from whichever manufacturer gives their politicians the biggest kickbacks. Case in point the Rafael jet. ↑:10 ↓:3
印度将从给他们政客最大回扣的制造商那里购买飞机。阵风战斗机就是一个很好的例子。
Mo
India's Military Is Quite Deadly But Their Soldiers Usually Get Captured By Pakistan's Military ↑:22 ↓:12
印度军队致命,但他们的士兵经常被巴基斯坦军队俘虏
Green Del
They have a unknown number of Indian war elephants. Tremble in fear China. ↑:10 ↓:3
他们有数目未知的印度战象。在恐惧中颤抖吧,中国。
Bleak
They have a known number of nuclear weapons, though ... more than a hundred. ↑:1 ↓:1
他们拥有已知数量的核武器,尽管... 超过一百枚。
fred
India is not going to attack why worry. There are more important things to worry about. ↑:0 ↓:0
印度又不会攻击,为什么要担心,还有更重要的事情要担心。
Tom
India's situation is indeed desperate sitting between two allied enemies. But they have got to turn to the west for weapons. The old Soviet junk they've been buying (which includes their tanks by the way which have an operational percentage of only 50% at any one time) are nothing but liabilities and a waste of the few resources India has for such. It's time they develop their own military industrial complex, true enough, but for the moment they dearly need access to American, British, and/or French equipment, and for the sake of interchangeable parts, they should stick to American/British weapons. ↑:11 ↓:5
印度的处境确实绝望,夹在两个同盟的敌人之间。但他们不得不向西方寻求武器。 他们一直在购买的苏联旧式垃圾(顺便说一下,其中包括他们的坦克,在任何时候都只有50%的可用性),这只不过是负担,是对印度为数不多的资源的浪费。 是时候发展他们自己的军事工业联合体了,的确如此,但是现在他们非常需要美国、英国或法国的装备,为了可以互换的零部件,他们应该坚持使用美国或英国的武器。
Bleak
They have nukes. Skirmishes there will never escalate. India's problems are inside its borders and weapons won't solve them. ↑:1 ↓:2
他们都有核武器。那里的冲突永远不会升级。印度的问题在其国内,武器是无法解决问题的。
gs92110
India IS the future of both S.E. Asia AND Middle East!
Watch India revolutionize capitalism and build a stronger economy..WORLDWIDE!
India IS the future!!! ↑:12 ↓:29
印度是东南亚和中东的未来!
看看印度如何改革资本主义和建立一个世界范围内,更强大的经济体吧!
印度是未来! ! !
Kin Cheng
Oh the breath of curry...yawn! Talk big yet do nothing! Even a blind man can see lol ↑:1 ↓:1
哦,满是咖喱味...哎!说大话却什么都不做!即使是瞎子也能看清。哈哈
nunya
India does not have trouble feeding it's people. Also they are owed $47 trillion by Britain. The Chinese only steal and aren't smart enough to advance on their own like the Indians are. ↑:3 ↓:4
印度在养活自己的人民方面,并没有问题。此外,英国还欠他们47万亿美元。中国人只会偷东西,他们不像印度人那样聪明到可以靠自己前进。
softlose
You have trouble feeding your people and talking about World Wide Economy. You are living in fools paradise. ↑:6 ↓:3
你们在养活你们的人民和谈论世界经济方面,很困难。你们生活在蠢货的天堂里。
AliMD
So deadly it's planes keep getting shot out of the sky by Pakistan ↑:5 ↓:2
太致命了,以至于飞机不断被巴基斯坦击落
nunya
Lol didn't the Indians beat you in 4 wars and make your ancestors beg for their lives? You place is by my side making me tea. ↑:1 ↓:2
印度人不是在四次战争中打败了你们,让你们的祖先乞求饶命吗?你们的位置是在我身边给我沏茶。
KindI
hahah...joke of the day! ↑:5 ↓:2
哈哈... 今天的笑话!
kim
be very scared ↑:0 ↓:0
非常害怕
D P
If the US ain't worry, then India doesn't have anything lethal. ↑:1 ↓:0
如果美国不担心的话,那么印度就没有任何致命武器。
Tayyab
Pakistan and China are quite deadly, India should worry. ↑:3 ↓:1
巴基斯坦和中国是相当致命的,而印度应该担心。
Abdul
Pakistani are not scared. They want war but India is so scared and the only thing they will do to is to scare all country. ↑:1 ↓:2
巴基斯坦人并不害怕。印度想要战争,但是印度太害怕了,他们唯一能做的就是恐吓所有的国家。
Dart1
Opinions don't matter facts and statistics do. India cut Pakistan into two nations in 1971 and that's how Bngladesh came into existence. By the way, Bangladesh is so much better off than Pakistan which is almost on the cusp of bankruptcy. Not to mention the biggest harborer of terrorist in the world. ↑:2 ↓:0
观点不重要,而事实重要,统计数据重要。 印度在1971年将巴基斯坦分为两个国家,这就是孟加拉国的诞生。顺便说一句,孟加拉国比濒临破产的巴基斯坦富裕得多。更不用说世界上最大的恐怖分子窝点了。
Nissan
Well...if we can't beat them, hold their cows hostage. ↑:1 ↓:0
好吧... 如果我们不能打败他们,就把他们的牛当作人质。
a
Indian pilots can be quite deadly when it comes to drinking tea. ↑:0 ↓:1
说到喝茶,印度飞行员可是相当致命的。
Krishna
India needs ten more years of Modi's leadership and Government to become an Economic and Military power. ↑:0 ↓:2
印度还需要莫迪政府十年的领导,才能成为一个经济和军事强国。
ibrar
10 more years of Modi LOL got be a flipppppppin idiot to vote the muppet and his Nazi party again. ↑:0 ↓:0
莫迪又干10年,哈哈,白痴们再投票给这个木偶和他的纳粹党。
bala
INDIA as a PEACE-LOVING nation has its MILITARY mainly to DEFEND its SOVEREIGNTY.So its whole posture&Performance is geared for that.That does not mean it is a slouch but means that it has what it takes to DO THE JOB effectively. ↑:1 ↓:6
作为一个热爱和平的国家,印度的军事主要是为了保卫自己的主权,所以它的整个姿态和表现都是为此而做准备的。 这并不意味着它懒散,但这意味着它有能力有效地完成这项工作。
Joe
India most formidable rival is China ? Wow ↑:0 ↓:0
印度最强大的竞争对手是中国?哇
nunya
India's only rival is China. Trashcanistan is like that pimple that keeps coming back after it's popped ↑:1 ↓:2
印度唯一的竞争对手是中国。巴基斯坦就像那个挤出来后还会长回来的小痘痘。
Rxyz
With Pakistan allied with China, India should be worry his is 1 vs 2. ↑:1 ↓:1
随着巴基斯坦与中国结盟,印度应该担心他是1对2。
nunya
China is more India's ally than Pakistan's. They are merely injecting debt into Pakistan to take its resources and infrastructure. ↑:1 ↓:2
与巴基斯坦相比,中国更像是印度的盟友。他们只是向巴基斯坦注入债务,以获取其资源和基础设施。
sattar
This article is not a real comparison and is missing a lot of fact. However, the writer is being paid by some war items manufacturers to lure india to purchase new aeroplanes, helicopters and .... india should spend on their people. The taxpayer money should not be paid to Americans and western countries for these war related item ↑:0 ↓:0
这篇文章并没有真正的比较,而且漏掉了很多事实。 然而,一些战争武器制造商却付钱给作者,诱使印度购买新飞机、直升机和... 印度应该把钱花在人民身上。纳税人的钱不应该支付给美国和西方国家,用于这些战争相关的项目上。
Mark
Huh "quite" deadly all right. When a country has to purchase most its more sophisticated weaponry from all over, just wonder how deadly would that be if it needs spare parts when it is at war. ↑:0 ↓:0
嗯?"相当"致命,好吧。当一个国家不得不从各国购买大部分更先进的武器时,只是想知道,如果它在战争中需要备件时,那会有多么致命啊。
shahid
Buhahahaha..... yeah right. ↑:1 ↓:0
噗哈哈哈哈... 是的,没错。
Curt
I heard Switzerland has a pretty formidable Navy ↑:0 ↓:1
我听说瑞士有一支相当强大的海军
Harry
Well, Pakistan should worry, but not China. I'd say China is slightly better on land, sea, and air. Also, more and better ICBMs, SSBNs, and SLBMs. ↑:0 ↓:0
嗯,巴基斯坦是应该担心,但中国不应该。我认为中国在陆地、海上和空中略胜一筹。此外,还有更多更好的洲际弹道导弹、 战略核潜艇和潜射弹道导弹。
Isaac
"India's Military Is Quite Deadly" and "(China and Pakistan Should Worry)" are the funniest and second funniest things I've seen all day.
If it was military vs military, China would steamroll India. ↑:0 ↓:0
"印度的军队是相当致命的"和"中国和巴基斯坦应该担心"是我一整天看到的最有趣和第二有趣的事情。
如果是军事对军事,中国将会压垮印度的。
Mike
India's Military Is Quite Deadly. LOL We saw them in action a year ago. Pak shot down their plane ↑:1 ↓:1
印度军队相当致命。 哈哈,我们一年前见过他们的行动。巴基斯坦击落了他们的飞机。
Abraham
India got nukes and super sonic missile from Russia. now air defense system s400 gonna get. india no doubt has good weapons in the bucket. ↑:0 ↓:0
印度从俄罗斯获得了核武器和超音速导弹。 现在防空系统S400也将要得到了。毫无疑问,印度有很好的武器。
nunya
India cherishes it's muslims as they are a vital lifeblood of the culture and society of India. We just don't like people from Pakistan who started and lost 4 wars ↑:1 ↓:2
印度珍视穆斯林,因为他们是印度文化和社会的重要生命线。 我们只是不喜欢发动了4场战争又输了的巴基斯坦人。
Shakeeb
Remember ? Tea is fantastic ? ↑:0 ↓:1
记得吗? 茶很好喝吧?
Tom
We need stronger willed people to settle their border issues than weaker people preparing to go to war ! Gandhi's value is still very relevant now if not more than before . ↑:0 ↓:1
我们需要意志坚强的人来解决他们的边界问题,而不是准备战争的弱者!甘地的价值观现在仍然非常重要。
zz
All three countries should spend on education rather than defense .... they don't get the fact that "Arms Producers" are laughing loudly when THEY buy war gadgets! ↑:1 ↓:0
这三个国家都应该把钱花在教育而不是国防上... 他们不明白这样一个事实:"武器制造商"在他们购买这些战争小玩意儿的时候,会放声大笑!
John C
Barking dogs seldom bite. India has been trying to invade Pakistan for the last 70 years and have been unsuccessful so far. The last they tried on Feb 2019 and they lost two fighter jets, a helicopter and then Pakistan captured one of their pilots. They need to try a little harder ↑:0 ↓:0
狂吠的狗很少咬人。 在过去的70年里,印度一直试图入侵巴基斯坦,但迄今为止都没有成功。 最后一次尝试是在2019年2月,他们损失了两架战斗机,一架直升机,然后巴基斯坦抓获了一名飞行员。他们需要更加努力。
Peter
indian military is still behind on the RMA. Chinese are galloping away with targeted investments for technology and a Huge network to target cutting edge tech along with internal innovation. The world has never seen anything like china.
The Indians have 2 options join the US led bandwagon or develop internally. The former is stalled as the Americans have still India under a tech sanctions regime. In fact if you compare the Chinese relationship with the US and Indian relationship with the US, the former are far more closer. So in effect India has to stand alone to defend itself. ↑:1 ↓:2
印度军方在军事革命方面仍然落后。 中国正在加快步伐,有针对性地投资于技术,建立一个庞大的网络,目标是尖端技术以及内部创新。世界从未见过像中国这样的国家。
印度人有两种选择,要么加入美国主导的行列,要么国内进行发展。前者会停滞不前,因为美国仍在对印度实施技术制裁。事实上,如果你把中美关系和印美关系作比较,前者要密切得多。 因此,实际上,印度必须独自保卫自己。
nunya
China is more of an ally to India than it is Pakistan. China is simply injecting debt so that they can attain control of Pakistani infrastructure. If your from China, I love you ↑:1 ↓:1
与巴基斯坦相比,中国更像是印度的盟友。中国只是简单地注入债务,这样他们就可以控制巴基斯坦的基础设施。如果你来自中国,那我爱你。
AL
China is India's second biggest trade partner, the US being the first. India wouldn't attack her second biggest ally. And, for that matter, India never attacked China in the past. So, dear journalist, please stop your false propaganda. ↑:0 ↓:1
中国是印度的第二大贸易伙伴,美国是第一大贸易伙伴。印度不会攻击她的第二大盟友。 就此而言,印度过去从未攻击过中国。 所以,亲爱的记者,请停止你的虚假宣传。
karim
Yet the US army never won a war and couldn't even defeat the Talibans. It is not the weapons that win a war. ↑:1 ↓:2
然而,美国军队从未赢得一场战争,甚至不能打败塔利班。 赢得战争的不是武器。
ja
India will never have war. Spending only. ↑:1 ↓:1
印度永远不会发生战争。只是消费。
Scorpio712
India is a country who needs to spend more of their money in helping their country into the 21st century. They spend billions on defense while their people, in some cases, are literally #$%$ in the weeds. ↑:2 ↓:1
印度是一个需要花更多钱帮助自己进入21世纪的国家。 他们在国防上花费了数十亿美元,而他的人民,在某些情况下,简直就是把钱扔进海里。
Tuhin
India is 100 years behind China . I am Indian American visited so many cities in China and what i experienced make me think twice I am in China or other part of planet ! so advanced ,sophisticated . Their innovation is second to none . ↑:0 ↓:1
印度落后中国100年。 我是一个印度裔美国人,去过中国很多城市,我的经历让我重新考虑,我是在中国,还是在其他星球上!非常先进,非常复杂。 他们的创新是首屈一指的。
nunya
China is only good at stealing others tech. They stole an su 27 and still can't make an engine. ↑:1 ↓:2
中国只擅长窃取别人的技术。 他们偷了一架 SU27,但还是造不出引擎。
sajid
Indian may be have everything but they are without heart to fight, they cant fight even Pakistan ↑:1 ↓:1
印度人可能拥有一切,但他们没有战斗的意愿,他们甚至不敢打巴基斯坦
Victor
India shoud continue extanding and building more potent missiles aimed at Pakistan and china ↑:0 ↓:0
印度应该继续研制和生产更多针对巴基斯坦和中国的强力导弹
kim
stop warmongering
actually just one gandhi was enough to whip the british empire ↑:2 ↓:1
别再煽动战争了
事实上,只要一个甘地,就足以打败大英帝国
michaelj
What a joke. India imports almost all it's jet fighters and tanks from Europe and Russia. Was thoroughly beaten by China in 1962. Cannot stand up to seven times smaller Pakistan. ↑:0 ↓:0
真是个笑话。 印度几乎所有的喷气式战斗机和坦克都是从欧洲和俄罗斯进口。1962年被中国彻底击败。就连小7倍的巴基斯坦也对付不了。
The Semitic
Stop drinking Cow Urine ↑:1 ↓:1
停止喝牛尿
Sam
my God I am scared. Indians are going to capture US and Canada!! ↑:0 ↓:2
天啊,我好害怕。印度人要占领美国和加拿大了! !
nunya
No but they're gonna become your doctor lol ↑:1 ↓:0
不,但他们会成为你们的医生,哈哈
Lynn
And in competing news the Mexicans have invaded the US with 13 million people and soon will overrun the country. ↑:0 ↓:0
与此同时,墨西哥人带着1300万人入侵美国,很快就会占领这个国家。
Abraham
without muslims and sikhs indian army will be joke. ↑:0 ↓:0
如果没有穆斯林和锡克教徒,印度军队就是个笑话。
Hyme
Hehehe! Hahahaha! India??? Lmao! ↑:0 ↓:1
呵呵呵! 哈哈哈! 印度? ? ? 笑死我了!
nunya
Lol are you from the diaper republic of Pakistan? Seems like it ↑:1 ↓:0
哈哈,你是来自巴基斯坦的尿布共和国吗? 看起来是的
kim
karma will destroy america europe muslims and chinese
indi will continue to reign supreme as in last 10000 yeRz ↑:0 ↓:0
因果报应会摧毁美国,欧洲,穆斯林和中国。
印第将继续像过去10000年一样统治世界
Jonathan
At least Chinese have toilets and school girls won't be scared of being raped of thugs from streets. ↑:0 ↓:0
至少中国人有厕所,女学生不会害怕被街上的暴徒强奸。
Shyerrylittle
Pakistan is about 7 times smaller than India but still won every single war against these coward rapist Street squatters!!!! ↑:2 ↓:0
巴基斯坦比印度小7倍,但仍然赢得了每一场战争,打败了这些胆小的街头强奸犯!
shahid
India should be making TOILETS not wars ! ↑:0 ↓:0
印度应该制造厕所,而不是战争!
james c
Bash India all you want. but they do have nukes. ↑:0 ↓:0
随便你们怎么抨击印度,但他们有核武器。
Tinko
No worries... Indian inept forces will explode all the bombs on themselves! ↑:0 ↓:0
不用担心... 印度无能的军队会把所有的炸弹都引爆!
John Thomas
The Indian Military is a danger only to itself. ↑:1 ↓:3
印度军队只对印度自己构成威胁。